Are there Really Jobs in Journalism? Yes, AP Reporter Ken Sweet Tells Students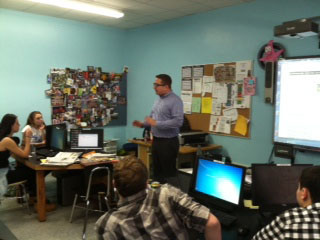 As students in Journalism II, we get to hear a lot about careers in the field of Journalism, but we really don't get a firsthand account of them. Fortunately, a journalist with the Associated Press's Manhattan office named Ken Sweet came to talk to us and point us in the right direction towards a successful career in Journalism.
Sweet came to Wantagh thanks to Social Studies teacher Ms. Burke, who had him talk to her classes about how Journalism is the first rough draft of history. Sweet is a cousin of Wantagh High School junior Ian Goldstein, who is in one of Burke's classes.
In his talk to Journalism students, Sweet shattered the false perception that there are no jobs in the Journalism field. Sweet definitely changed my mind, as well as my peers' minds about this, and informed us of the many careers that are out there in Journalism.
He grew up in Arizona and graduated from the University of Missouri in 2007, with a degree in Journalism and Political Science. He worked at the Wall Street Journal but found his niche writing about business. His articles have been featured famous newspapers such as The Miami Herald, The New York Times, and many others. Though as he pointed out the Times does not give bylines to AP writers. He spoke about opportunities created specifically for aspiring journalists, such as Vox Media Incorporated, a brand new publication online, which just launched in early April.
Nine Journalism students listened to Sweet talk on a day we didn't have class. "I thought he was really informative and I thought it was interesting hearing what he does as a career," said Steph Pissi, a junior .
Sweet helped us realize the importance of print Journalism, as well as reporting stories without bias. We all tell ourselves that the online version is the same thing, but newspapers and magazines are something tangible, something real. Reading something off a brightly lit screen just doesn't have the same effect as reading it off of a paper that you can hold. He inspired me, and several of my classmates, to become the best possible journalists we can be. I hope that everyone else can also recognize the importance of what Sweet has done and continues to do so, and keep reading the news.