Cheering is More than just Rooting for the Home Team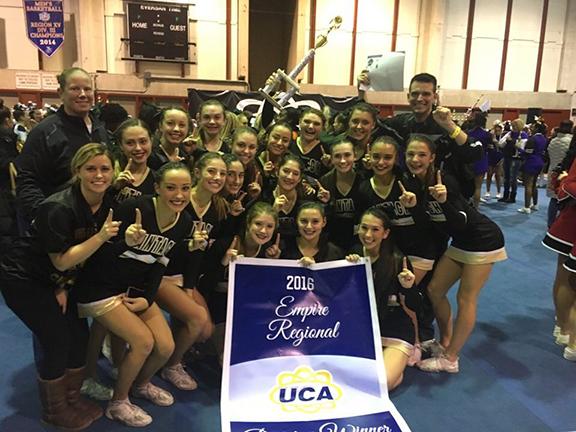 Most students don't understand the true meaning of cheerleading. Cheerleading is a very competitive and difficult sport, as opposed to a club activity. Cheerleading used to be cheering for your home team, but now it's all about competitions. As a varsity cheerleader since ninth grade, I've experienced nationals for three years now. Trust me, it's no different from any other competitive sport.
Cheerleading runs year round. We start our season in August and we don't stop until the end of March. Most teams get two weeks off, then begin open gym in April. Though, from April to August it isn't as intense. During the season that starts in August, we practice every day for 2.5 hours, and these practices consist of conditioning, running, stunting, and tumbling. Then on Saturdays and Sundays we compete all day long. Considering our week is filled with cheerleading events, we never have time to do other things. It's been hard in the past few years to keep a steady job for many of us. Every sport is time consuming, but not every sport is all year round. Since this is so time consuming, it truly helps all cheerleaders with time management.
In order to do cheerleading successfully you really have to be fit and in shape. A cheerleading routine is not allowed to be over two minutes and thirty seconds. In order to do so much in such little time it is necessary to be in shape. When we try out, in order to be on varsity you need to be able to run under an eight-minute mile. Considering this, our coach has us run every day and condition every day. It's very difficult to do backflips, jumps, tumble, stunts, and scream the cheer fast enough to get through it all in two minutes and thirty seconds.
This season Wantagh's cheerleading team has had a lot of success. So far we have won every single competition this season. Our second competition was Regionals and we won! The Wantagh Varsity Cheerleading team is official regional champions and it is in second place for a national title. We are shooting for an undefeated season and so far were on the right path. We are going down to Florida to compete for a national title February 10-12. This year is our year and we are all motivated, excited, and ready for the rest of the season.