Pirates Cast An Anchor in Wantagh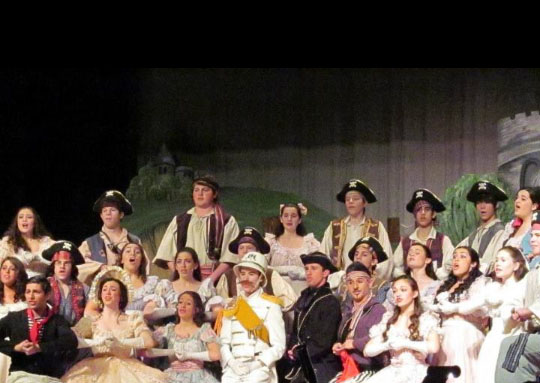 Arg, mateys! The Wantagh High School Theater Department opened The Pirates of Penzance on February 7 with a bang and two special guest pirates, Ms. Cusack and Mr. Boyle. The other showings were supposed to have special guest pirates including, Ms. Fragola, Mrs. Hult, Mrs. Huber, Mrs. Lethbridge, Mr. Shapiro, Mr. Naughton, and Mr. Nyberg. But they didn't due to a blizzard.
The Pirates of Penzance, or The Slave of Duty, is a comic opera in two acts. The show's humor and romance had the audience laughing through the entire show and music played by the pit orchestra, conducted by Mindy Dragovich. With help from Mrs. Romano and Mrs. Haas, the play was full of excitement that kept the audience at the edge of their seats.
On opening day, the cast wore their costumes to school. Students who weren't involved in the play gazed with confusion as the cast walked around school looking like pirates, little bo-peep, or police officers.
The cast of main roles included, Kara Arena (Mabel), Nicole Weitzman (Ruth), Seán O'Brien (Major-General Stanley), Tyler Dema (Frederic), Patrick Constant (Sergeant of Police), Robert Kawecki (Pirate King), Sophia Pinciotto (Edith), Carly Censi (Kate), Taylor Costello (Samuel), and Perri Levine (Isabel).
The nor'easter that hit Wantagh on Friday, February 8, put the show on edge – the Friday and Saturday shows were canceled due to the amount of snow Wantagh received and were moved to Sunday, February 9 and Monday, February 10. For the last show, Mr. Naughton and Mr. Shapiro guest stared as pirates.
"Pirates was definitely a journey and a half," says senior, Nicole Weitzman, "but on this journey the cast grew closer as a family and conquered a challenging show that turned out to be wonderful. I've made some of my best memories and friendships on this stage and it's weird to think this was my last musical at Wantagh." Congratulations to Mrs. Romano, the seniors, and the rest of the cast and crew on a terrific show!