What's New at Disney World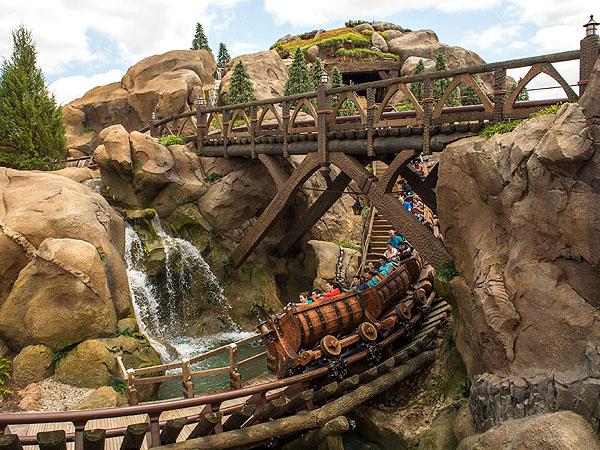 Step back Harry Potter: Disney has plenty of new attractions that will make any visit truly magical.
Snow White's seven pint-sized friends take over Fantasyland with their new rollercoaster "Seven Dwarves' Mine Train." This family-friendly ride features new animations of each dwarf mining away, whistling to the famed "Heigh-Ho" musical scene. The coaster is perfect for any age surpassing the miniscule height limit; a mellow yet entertaining way to warm up to the park's many to-dos. Disney decided to change things up a little by adding a mechanism to each cart, allowing it to cradle back and forth by leaning to either side.
Not only is the ride itself a blast- even waiting on line is a pleasurable experience. New interactive technology diminishes boredom and distracts children from fussing and racing around the crowd. One of these contraptions is a touch-screen mine cart with a pool of jewels drifting across the screen. It is the player's job to drag these gems into their proper spot, coordinating their shape and color. You will find another one of these new widgets inside the mine—a cluster of diamond-filled barrels projecting mesmerizing lights onto the ceiling. When spun fast enough, these illuminations shift into dancing dwarves. If all spun at once, the adored princess Snow White makes a dazzling appearance on the stone ceiling. Right after tourists are loaded into the carts the ride immediately dips down, going right into the thrill. The carts cruise through hairpin turns, large lifts, and sharp banks smoothly at nearly thirty miles per hour.
Snow White isn't the only character to have updated in technology—in fact, all four parks have introduced the new MagicBands, a flexible Mickey bracelet keeping track of all of your Fastpasses, Park Hoppers, hotel registrations, and more. To use the MagicBand you simply hold your wrist against one of the many available MagicBand-compatible implements around the park. These are gold or silver metal spheres supervised by Disney operatives, occasionally with an attached tray-like platform with a small grove in it for your fingerprint. MagicBands are a great new way to enter parks and rides quickly and efficiently without the hassle of taking out your credit card or searching for paperwork.
Disney has doubled-up the entertainment with more parades and shows than ever. This includes the new daytime Festival of Fantasy Parade filled with characters new—Anna and Elsa, Meridah, Rapunzel—and old—Pinocchio, Peter Pan, and Belle. The electric nighttime parade is also showing twice a night, now both before and after the fireworks show. Disney may be filled with kiddy parades and shows, but that's no reason to think Disney is a place just for children. The Wine and Food Festival is just one of the many yearly happenings at Disney. Celebrating its 19th year, the Wine and Food Expo spread across the entire park of Epcot with over thirty stands of exotic foods—Australia, Greece, Ireland, Puerto Rico, South Korea, and more! The Food and Wine Expo allows you to taste your way around the world with native chefs from each country.
If you come the right week you'll even be able to catch the Osborne Family Spectacle of Dancing Lights Parade, the absolute must-see illumination of Disney's Hollywood Studio's Main Street. Millions of lights deck buildings with blinking holiday colors, flashing to songs like "What's This?" from the beloved Nightmare Before Christmas.
As winter is approaching, so are the stars of "Frozen" with their new movie-themed ride in Norway, Epcot. The new ride is to be named "Arendelle" for the icy city that Anna and Elsa live in. Younger Disney-lovers may be anticipating its arrival, but previous visitors of Disney are sure to miss Maelstrom, the exciting troll-filled Viking ship ride. Though the new ride's construction is controversial, Maelstrom's 26 years of adventure-filled rides are coming to an end. Some are saying that Frozen's new ride may be ruining the theme of Epcot—a place to explore new cultures, and to show that Disney isn't all about animation. Others are ecstatic to ride and shop in Arendelle 'for the first time in forever.'