Chantelle Young-Brown: Not Your Average Model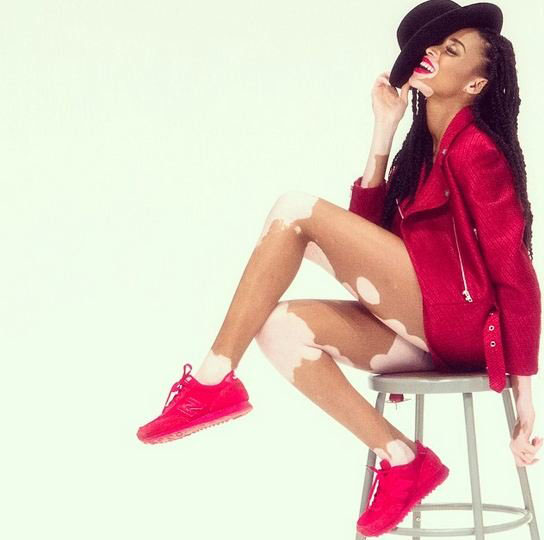 "Cow," "Zebra," "Panda." Chantelle Young-Brown, also known as Winnie Harlow, is done with her bully-filled schooldays and is off to get the last laugh as the next big supermodel. Young-Brown isn't any average model— she's been diagnosed with the rare skin condition Vitiligo, causing her skin to whiten in blotches from head to toe.
Unlike the beliefs of Young-Brown's childhood peers, it is not contagious nor does it make her any less beautiful than other girls. What is even more unique about Young-Brown's condition is its symmetry. Her Vitiligo matches up nearly perfectly on either side of her body, making an exotic and beautiful pattern on her skin.
"A lot of people have a story and background," Young-Brown explains in her America's Next Top Model audition tape, "but mine is painted on my body." Young-Brown, unlike other aspiring models, was found by Tyra Banks on Instagram. Tyra, stunned by the beauty of Young-Brown's skin, invited Young-Brown to compete in Cycle 21 of America's Next Top Model: Guys vs. Girls. Only modeling somewhat a year before her invitation, she describes herself as being "pretty fresh" as a model and having Tyra's offer "stick with her for the rest of her life."
Chantelle Young-Brown is an inspiration to thousands of young women, hence being all the rage on Instagram. Young-Brown's growing 351k followers admire her striking model pictures, fan art, and inspirational quotes and photography as she gradually reaches closer to fame. Others think differently, though—that Young-Brown is treated differently, and beneficially, because of her atypical skin. Or that she even shouldn't be modeling because of her distracting two-toned flesh. For example, ANTM photographer Yu Tsai refuses to view Young-Brown like other contestants by nicknaming her "Panda."
Though Young-Brown herself is neutral about having been dubbed with a pet-like name, she rightfully confronted Tsai about the effects of his actions onto viewers. She tries to explain how it is dangerous for viewers to think it is acceptable to call others whom are different by animal and pet names, yet Tsai simply excuses his mistakes by telling the young model "I don't work for you," followed by what seemed like a half-hearted apology.
The 20 year-old Toronto native will be showing off her "panda-like" skin to Tsai and millions of others in her new Desigual campaign this autumn.
Though some may not take Young-Brown's career seriously, she isn't here for the "reality T.V. show" aspect of ANTM. For Young-Brown, this means business. Some of the model's co-stars even claim that she comes off as "cold" and "doesn't want to be on the show." To Young-Brown, this couldn't be farther from the truth. A modeling career has been beyond a dream for the Vitiligo-diagnosed beauty, and a way to inspire young girls and boys that beauty and confidence isn't something that is handed to you—it's from yourself.
"Self-image or self-confidence, it has to do with yourself," she tells Yahoo! Canada. "Those things are scarred so much by other people, but those are really things within yourself. Those are things you should focus on yourself instead of looking towards the opinions and validation from other people that yes, you are beautiful. You should know that you are beautiful; you should know that you are creative; you should know that you are beautifully and wonderfully made. That's just something you have to believe within yourself."