Speeding for Sheeran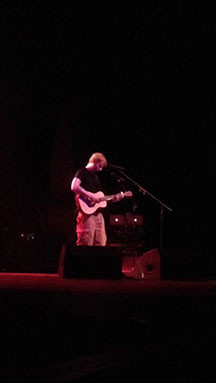 Some concerts take months to schedule and plan out, but this past July 5, it took Ed Sheeran two hours to plan a concert at the Paramount in Huntington. He was at the venue to practice for a radio show but ended up wanting to perform a show there. The A Team singer went to his Twitter and posted a tweet announcing he wanted to have a concert that night in Huntington; tickets for $20 were being sold, and it was first come first serve. As soon as that tweet was sent out to the Internet, people flocked to Huntington. The line stretched down over four blocks in hopes of getting in.
The theater only held 1,555 people and everyone was anxious to get in. At least 3,000 people showed up. The event was supposed to take place at 8 p.m., but because of the crowd size, the show didn't begin until about 9:45 pm. A few days before the Paramount event had occurred, at the time, Sheeran announced a North American tour, but New York was not included. So when fans heard about the surprise concert, they went insane, dropping everything to rush to Huntington to see one of their favorite music artists. Just days before, Ed's album "X" was released, so everyone was looking forward to hearing his new songs live for the first time.
Days before the concert, his sophomore album "X" debuted #1 on the Billboard top 200 albums list. Within the first week his album was released, 210,000 albums were sold and he was #1 on the charts in twelve countries and top 5 in eleven. Sheeran also holds the title of largest week sales for a British artist in almost 10 years. He is most known for his single "The A Team" which was one of the tracks off his debut album "+". "+" sold 42,000 copies within the first week of sales, Sheeran has come a long way since his first album.
Sheeran's fame is growing globally, but it started a following in America in 2012 when he opened for "Snow Patrol". He caught the attention of more people in 2013, when he opened up for Taylor Swift on her "Red" tour. He worked with several talented artists including Taylor Swift, One Direction and Pharrell Williams. Sheeran was nominated for six Grammy Awards, won 2 Brit awards, and received several other nominations and awards over the years. He recently expanded his North American tour and is touring all over America including two shows in Forrest Hills stadium in May and a show at the Barclay's Center in May. It's just the beginning for Sheeran's success.
To say the concert was amazing would be a complete understatement. When I saw his tweet, I freaked out and basically forced my parents to speed from New Jersey to make it to his show. We sped through the traffic, picked my friend up and raced to Huntington to wait on the line filled with anxious fans.
Luckily, my friend and I made it inside and even managed to push all the way to the front of the stage. We had a perfect view of the performance. The way Sheeran is able to make things that are ugly in the world make them sound beautiful in a melody is absolutely amazing. His guitar skills are unbelievable. The entire night he hit incredible chords and used a loop pedal to create a harmonious round of choruses. The audience was ecstatic and so invested into his performance, sometimes Sheeran likes to preform specific songs in complete silence, so he quieted the room of 1,500 people to play his song and you were able to hear a pin drop.
When Sheeran sold out three nights at Madison Square Garden this past fall, he quieted 20,000 each night to sing a song. He performs with such personality and emotion it's breathtaking. Sheeran smashed the performance, he performed non-stop for over 2 hours. I have been to dozens of concerts before, but Sheeran's show at the Paramount is hands-down my favorite one and I'm so glad I was able to be there to witness it. I'm definitely looking forward to seeing him again in May.