21 Pilots Buzz the Music Scene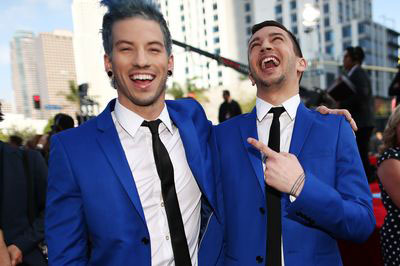 21 Pilots is a fairly new musical group in the indie pop/ indie rap category. They originate from Columbus, Ohio. I have recently bought their newest album known as, Blurry-face. The new album consists of 14 songs that are very catchy.
I was never really into this type of music until I randomly came across the group's song "Stressed Out" on Youtube one day. I found the song extremely catchy and followed up on it by listening to 21 Pilots' other songs and instantly took an interest into the whole album. Each song is catchier than the one before and the group only consists of two people, along with special effects and some background music. The two members of the group, Tyler Joseph on Piano and Josh Dun on Drums, are a great duo and tend to really enjoy making music together based on watching some of their interviews after concerts.
The newly famous musical pair have put together a tour all around the united States and parts of Europe. The tour along with the album name is Blurry-face. The tour began on September 8 and ends November 17. Friends and I went to the concert September 16 at the Hammerstein Ballroom in Manhattan. The famous duo sold out both concerts, September 15 and 16.
I look forward to hearing about the upcoming albums and I would recommend checking out a song or two and you may become as addicted as I have.
The band was complete in 2009 and has made nine albums with very easy to remember songs. This type of music is not like many as it is very easy to gain an interest in since it does not contain any inappropriate words but is still very interesting and catchy. The group performed at the 2014 MTV movie awards, Firefly, Bonnaroo, and Lollapalooza which are music festivals all around the world. They also performed at the 2015 VMAs.