A Third Trilogy for Jedis, Wookies, Hans, Luke and Leia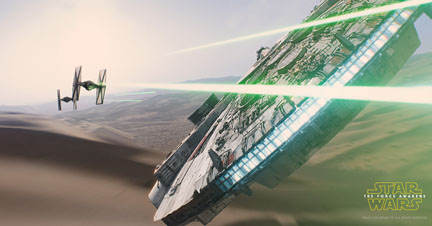 In a galaxy far, far away lived a wise Jedi, a Jedi trainer, a princess, a wookie, a human smuggler, and two droids. This team on planet Alderon, Hoth, Coruscant, and many more planets worked together to defeat the evil Darth Vader. Thirty years later the team is back together for three more episodes of the famous triple movie trilogy, Star Wars.
In 2012, the Walt Disney Company acquired Lucasfilm and started filming the new movie, "Star Wars: The Force Awakens," on October 30, 2012. "Star Wars: The Force Awakens" will premiere on December 17. The director of the film will be J.J. Abrams, director of the "Star Trek" trilogy, and among those on the writing team is Lawrence Kasdan, who wrote for the original trilogy, and wrote "The Big Chill" and other classic films. This will be the 7th Stars Wars film and the first in a decade since "Star Wars Episode III: Revenge of the Sith" the last of the second trilogy.
The original cast will be returning such as Harrison Ford as Han Solo, Mark Hamill as Luke Skywalker, Carrie Fisher as Princess Leia, and their sidekicks, R2-D2, C3PO, and Chewbacca. New allies will also be joining the team of the galaxy such as Oscar Isaac playing Poe Dameron, an X-wing pilot, and Daisy Ridley as Rey, a scavenger on the planet, Jakku.
The plot of "Star Wars: The Force Awakens" is based on Hans Solo and his allies facing a new enemy, Kylo Ren played by Adam Driver (of the TV show "Girls"), and his storm troopers, one being played by John Boyega, the first order storm trooper. Kylo Ren is mentored by a powerful figure of the dark side, Supreme Leader Snoke played by Andy Serkis.
This film is predicted to earn up $540 million worldwide, which would break the record of "Jurassic World," which earned $524.1 million. This will not be the only Star Wars film coming out. Two more sequels are planned.