Fully Clothed and Fantastic – The Naked and Famous Rock NYC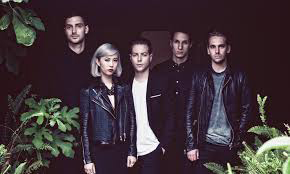 The Naked and Famous brought indescribable energy to Hammerstein Ballroom in New York City, November 12. After a painful three year hiatus, the New Zealand-based indie rock band is now in the midst of an international tour for their new album, Simple Forms. The album is true to the band's unique, edgy sound, but seems to follow an especially strong lyrical theme of love, loss, and ultimate forgiveness. After years of tension and change, lead vocalists (and ex-lovers) Thom Powers and Alisa Xayilith couldn't have appeared happier to be back on stage.
Though formed in 2007, The Naked and Famous began their spiral of popularity with their single "Young Blood" off of 2010 album, Passive Me Aggressive You. Taking the indie scene by surprise, the song began to be featured in TV shows, commercials, and radio stations across the world. I first heard it in the car one day circa four years ago, and after rediscovering it on YouTube, dove farther and farther into the group's music. I soon grew to be entirely infatuated with The Naked and Famous; what became interesting to me, however, was their apparent lack of fame amongst teenagers.
I first went to see The Naked and Famous at Terminal 5 in New York City when I was 13. They were touring internationally for their new album In Rolling Waves at the time (which had "coincidentally" dropped on my birthday), and I couldn't stop telling people about it. The funny thing was, no one knew what I was talking about. "So, are they like, actually naked?" a friend had joked with me, and I laughed. Of course I'd always known they didn't prance across stage in the nude, but it soon became obvious to me through talking to my peers that they weren't all too famous either.
Going to the concert was funny as well; I was by far the youngest (and the soberest) attendee. I realized then that The Naked and Famous were no teenage boy band with crazed fans holding up signs- they were obscure and unique. They were dark. They sang with emotion, evidently trying to tell us something with every aggressive, otherworldly guitar riff. Being in that crowd of people made up predominantly by troubled goths and over-enthusiastic moshers made me feel a strange new sense of maturity and belonging, so much so that I cried when the concert was over. I wasn't sure when (and if) I'd get to see my wonderful favorite band again, and I didn't want to go home.
On June 20 this past summer, The Naked and Famous began posting a series of caption-less pictures on their inactive Instagram account. Immediately filled with bittersweet excitement, fans began to beg for context. It wasn't until July 3 that the band finally announced a date and a song title, implying the release of a new single and a new album, Simple Forms. The 13 year old in me was filled with joy; a few weeks later, I bought tickets to the The Naked and Famous's first (proper) New York City show in three years.
When November 12 finally arrived, I couldn't have gotten myself to Hammerstein Ballroom faster. Watching the full band walk out on stage was like running into an old friend; starting off the show with their new upbeat single "Higher," The Naked and Famous immediately engaged the audience of troubled goths and over-enthusiastic moshers and got us all dancing. Something about their music reportedly gives fans feelings of limitlessness and extreme energy – so much so that Hammerstein Ballroom seemed to morph into one massive mosh pit, each person lost in their own uncontrollable emotions. Thom Powers and Alisa Xayilith expressed their gratitude profusely, Xayilith reminding fans at a maximum of two-song intervals how much she appreciates playing their music to such a loyal and passionate audience.
"It's nice knowing that people still care about us," Powers joked, and fellow fans and I cheered reassuringly. There was then a slight pause, and they directed attention to Aaron Short, the band's main keyboardist. The concert had neared its end, and I knew undoubtedly that they were about to play "Young Blood"; I saw Powers and Xayilith exchange excited glances.
"This last one needs no introduction," Xayilith said with a smile, and we all cheered knowingly. "And if you'd like, sing along. That's always been my favorite thing."