Moana – Much more than a Disney Princess Film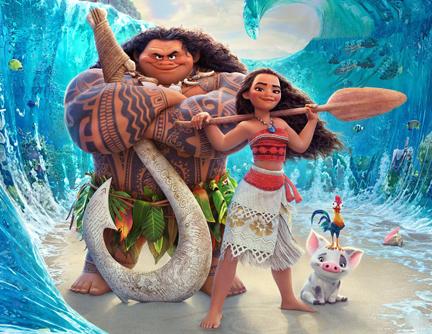 The newest movie from Disney was released on November 23, the day before Thanksgiving, earning over $82 million in its first week of airing – with audience and critics alike giving it an almost perfect rating. The movie has multiple accomplishments and positive 'firsts' to its name.
As one would definitely notice, it's the first Disney movie with a Polynesian princess (or to be more accurate, future chief). Many rejoiced this, as she provided much needed representation for those of the Pacific Islands, and those especially of Polynesian descent. She not only actively participates in the adventure and completely fulfills the role of heroine, she also doesn't have a love interest.
The movie is unique in how it has an almost completely Polynesian main cast. The title character Moana is voiced by Auli'i Cravalho, who was born in Kohala, Hawaii. What's interesting about her, despite her background, is that she was actually the last person to audition for the role – after hundreds of other young actresses auditioned. She's one of the youngest actresses to play a Disney princess, making her more suited for the young princess role (she's second only to the child voice actress of Young Anna from Frozen).
Moana is an outlier when compared to all the more recent films, especially from Disney. It retreats back to Disney's roots by being more simple, yet still holding a lot of depth and heart. There are multiple aspects of the film that intrigued many people. The amount of detail, and the realism, in the animation, and the entire process astounded many. For example, they began going back to their roots. The "Mini Maui" – a part of the character Maui's tattoos – was hand drawn; done by veteran animator Eric Goldberg (who was lead animator of the character Genie from Aladdin). While also returning to an art form perfected by Disney, it uses different means as well to create a very realistic, and beautifully rendered movie. New technology was created for Moana to animate hair, without the stress of having to animate every individual strand (it's done mostly via a program). An old trick is used to create realistic and unique landscapes. A person actually sculpts the island, and then digitally adds color and detail. The result of all this effort is a flawless and realistically animated movie.
The film has been praised by many on it's character design. Unlike with previous Disney films, Moana and the rest of the characters are designed less gaudy, not as large eyed like its royal predecessor, Frozen – in an attempt to accurately represent the people of the islands. The characters are not meant just to sell toys, but to tell an inclusive story. Moana herself is designed in a way to be able to be more active, more hardy, and even her clothes are designed for freedom of movement.
Musical geniuses have worked on this film, including the extraordinary Lin-Manuel Miranda, and the famous Samoan musician Opetaia Foa'i; making the soundtrack is a large factor of its success. The soundtrack may not catch on as easily as Frozen's, but they're still just as memorable and catchy. It expertly incorporates foreign languages into a diverse range of songs. The songs range from powerful and inspiring, to fun, to even evil (this is one of the factors that shocked me when I was watching – there's been an absence of Disney villain songs – and this comeback song is worthy of praise).
This movie is actually amazing – every aspect of it is almost completely flawless. It's focus on cultural myth, and family, makes it stand out compared to previous Disney Princess films. It attempts to bring awareness to Polynesian legend and culture, and does so in an absolutely gorgeous and memorable way. It's definitely worthy of all the praise it's received, and everyone should see it.