Cartoon Fans Stirred Up Over McDonald's Sauce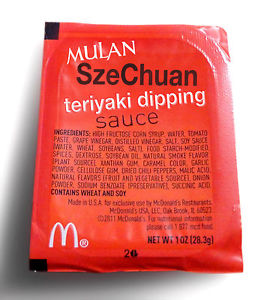 A cross-promotion between McDonald's and a popular, adult-oriented cartoon on Cartoon Network's Adult Swim programming block has caused riots to form over a limited-edition dipping sauce. The sauce in question, Szechuan sauce, was originally released in the late 1990's as part of a promotion for the new-at-the-time Disney animated movie Mulan, though McDonald's brought back the sauce for a limited time at certain locations to help promote the third season of the immensely-popular adult cartoon Rick and Morty – and the unthinkable happened.
On Rick and Morty, a character has a fascination with the Szechuan sauce and claims that he would do absolutely anything to get the sauce, "even if it takes nine seasons." The first episode of the third season of Rick and Morty caused fans to petition McDonald's to bring back the sauce April, and in July the company responded by selling a bottle of the sauce to the show's creators as well as saying a few lucky fans would be able to try the sauce – and October 7, McDonald's started to roll out limited quantities of the sauce, complete with Rick and Morty-inspired packaging, to select stores. However, it only lasted for one day.
Rick and Morty is currently the #1 TV comedy among males and females of the 18-34 age range. Fans of the show and just curious people who wanted a taste of the sauce waited outside select McDonald's locations in huge lines to get their share, and the limited quantities of sauce ran out before the locations were even legally allowed to sell them. Fans traveled far and wide in attempts to try the sauce for themselves, and many expressed strong discontent when they had no luck whatsoever. One man was even allegedly stabbed by an outraged fan waiting in line at a McDonald's in Los Angeles.
McDonald's has acknowledged the fact that the promotion did not go well, and is making it up to fans. They have announced that the popular-thanks-to-Rick and Morty sauce will be sold nationwide and in larger quantities during the winter so that every fan can get a chance to try it.