If you Love the Gilmore Girls, You'll Love This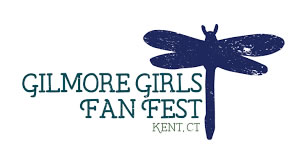 For all die hard Gilmore Girls fans, a weekend festival full of everything Gilmore, set in a small town in Connecticut just like the fictional Stars Hollow where Gilmore Girls took place, is a dream come true. For me that dream came true this year the weekend of October 19. My mother and I stayed at the Litchfield Inn so we could be close to Kent, CT for the Fan Fest. Lorelai Gilmore ran and eventually owned an Inn called the Dragonfly Inn on the show so this was a great start to a perfect weekend with beautiful rooms, delicious food, and great hospitality.
Jammed packed with activities from early in the morning till late at night each day, the Gilmore Girls Fan Fest did not disappoint its fans. The first day included a welcome breakfast, knit-a-thon, exploring an Appalachian Trail, photo opportunities at the town gazebo, stress tap dancing, lunch with guest cast appearances, book signings, trivia sessions, a farmer's market, a town hall meeting to debate Rory's boyfriends, an improvised Gilmore Girls from NYC, dinner, music by Todd Lowe, and karaoke led by Rini Bell and Eric Henry.
Saturday was breakfast and yoga with wellness expert, Rae Broderick. Next, was a costume optional Memorial 5K to Edward Herrmann to benefit brain cancer research at Head for the Cure and whether you ran or made a donation you received a finisher medal provided by the Chilton Running Club. Edward Herrmann was the grandfather in the show and his daughter and wife were at the festival. His daughter presented a premiere of her personal narrative of her father's passing called "Home," which was a touching film meant to help people deal with grief. Then, onto a very fun activity of the weekend, the mother/daughter fashion show.
There was also a chocolate tasting, homemade soap sale by one of the actresses with photo opportunity and autograph, meet and greet with two cast members from the Life and Death Brigade, sorbet tasting, pitch contest, coffee monologues, a candy bar, dining at local eateries, a special performance by Liz Torres who was Miss Patty in the show, and ending with "The Wedding Reception Luke and Lorelai Never Had" with cake, dancing, and toasts.
Sunday arrived as much as we did not want it to and soon it would be time to leave the fictional world of being the Gilmore Girls, but not without a few more surprises.
We enjoyed a dance recital with a local studio and Liz Torres, had a goodbye brunch with the cast who came and talked with us, took photos, and signed autographs, bought all kinds of memorabilia, learned about the etiquette of today's Daughters of the Revolution, I got a robe from the original set of the Gilmore Girls, they made a surprise announcement that even though this was supposed to be the last year that they could do this fan fest they found a new venue to host it and it would continue again for at least next year, and then ended with goodbyes and raffle giveaways, which I luckily won a signed original poster of Lane from the show.
It was an exhausting weekend, but worth it in every way. My mom and I have watched the Gilmore Girls since as long as I can remember, we own every season on DVD, still binge watch it on Netflix, and getting to spend a weekend in a small town similar to Stars Hollow with the cast walking around and so many great activities was a fan's dream come true!