Ellen Honored at Golden Globes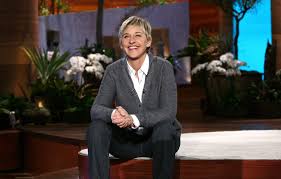 Ellen DeGeneres received the second-ever Carol Burnett Award this year at the Golden Globe Awards, January 5. 
Last January, at the 76th Golden Globes Awards, trailblazing comedian, actress, singer, and writer Carol Burnett was presented by the Hollywood Foreign Press Association with the very first Carol Burnett Award.  This award honored its namesake because of her "outstanding contributions to television on or off the screen."  
Ellen DeGeneres is a household name just as common as Carol Burnett.  She started doing stand-up comedy in coffee shops and small bars, and by the early '80s was touring in the US.  In 1984, Showtime named her funniest person in America. Her television career started with two short-lived sitcoms, "Open House" and "Laurie Hill," the former running for only 24 episodes and the latter only lasting for ten.  
Shortly after "Laurie Hill" was cancelled, DeGeneres was cast in "These Friends Of Mine," which was later renamed "Ellen."  "Ellen" ran for five seasons, and is famous for being one of the first shows in the US to have a character come out as gay. The episode in which DeGeneres's character came out aired shortly after she came out in real life.  In 2003, "The Ellen DeGeneres Show" launched, and this world-renowned show has been run since. In its first three seasons alone, it won 25 Emmy Awards. DeGeneres also voiced the character of Dory in Disney's "Finding Nemo" and "Finding Dory."  She has hosted the Academy Awards, Grammy Awards, and the Primetime Emmys, written four books, and has won 30 Emmys and 20 People's Choice Awards, more than any other person.
Off screen, she has fought for LGBTQ+ rights, and established The Ellen Fund in 2018, which "supports global conservation efforts for endangered species." She is a vegan, and has a segment on the show called "Going Vegan With Ellen," during which she shares vegan recipes and promotes "Meatless Mondays."  She has also brought Wayne Pacelle, CEO of the Humane Society of the United States onto the show to discuss the association's efforts in legislation concerning animal protection. 
  As stated by Lorenzo Soria, Hollywood Foreign Press Association president, "From her sitcoms, to stand-up, to becoming a household staple on daytime television, she is a pioneer who has captivated audiences for nearly 25 years with her undeniable charm and wit," said Lorenzo Soria, Hollywood Foreign Press Association president. "In addition to her television success, she's an advocate and philanthropist, lending her voice to those who don't have one, and spreading kindness and joy through the power of her platform."
As far as some of the winners at the Golden Globes, Joaquin Phoenix got best actor in a drama for his role as the Joker and Renee Zellweger got best actress in a drama. For best dramatic film "1917" beat out "Joker," and "The Irishman." And Brad Pitt beat out heavyweight actors Anthony Hopkins, Al Pacino and Joe Pesci taking best supporting actor for his role in "Once Upon a Time in Hollywood."