SL-NOs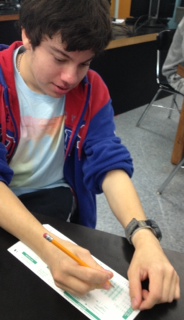 The Student Learning Objective (SLO) tests that we have all been taking in every subject have been a complete waste of class time. Let's all take a test that we can't prepare for. Phenomenal idea. What's the point? Whose idea is this? Some politician's?
"Don't worry about it. You're not being graded." I'm sure you all heard this from your teachers pre-SLO distribution. But obviously we are going to worry about it. Even if we aren't being graded, we're still going to want to do our best. Our best, most likely, is more than a few points higher than a zero. Wantagh students are very diverse but there is something that holds most of us together: Our drive and desire to do well.
The SLOs are part of the state's grand plan to grade the teachers. Even if you haven't said it, it is likely that you have wished that you could test your teacher on the tricky subject matters we have to learn. The point the SLOs seems to be to determine the student's improvement as the year progresses. Obviously students are going to improve. This whole thing just seems frivolous. To take a test on the first few days of school before any material is taught and then to take a similar test at the end of the year after the whole curriculum has been taught? Then there is the question posed to many: "Can't students bomb the test at the end of the year if they don't like their teacher?"
Remember, this isn't just a Wantagh School District test. It's a mandate by the state. School districts across the state must have their "teacher grading" plans approved by a January 17 deadline. So essentially, the teachers and state officials are busting their butts to meet this deadline that might not even be met. There are millions of federal education dollars at stake. Thus far only 75 districts' draft plans have been approved out of 295 submitted. There are 715 public schools. Almost there! Not to mention the state doesn't have enough workers to check all of the applications. Should they hire more? But is it worth to spend all this time and money to prepare for these tests?
Does Wantagh even get the money?