Science Olympiads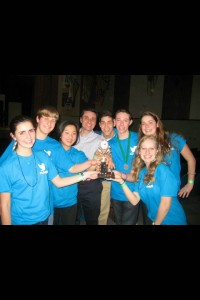 On Saturday, February 2, the Wantagh High School Science Olympiad team competed in the regional competition at Kellenberg Memorial High School. 74 teams competed, representing over 40 schools. Wantagh Team A ranked as the 9th place team and the 7th place school, qualifying them for state finals for the first time since 2008.
As a great representation of the school's academic achievers, Wantagh sent a total of four teams to the regional competition. Only one other school in the county was able to amount such a tremendous display of students interested in the sciences. Thirteen students total had the extreme honor of winning medals for their teams. Medals are awarded to the top eight teams in each event out of the total seventy-four teams.
Team A won a total of five medals: Jaclyn Onufrey and Lindsey Stevens placed 2nd in Disease Detectives; Andrew Bloniarz and Sophia Liu placed 2nd in Dynamic Planet; Isabella Swyst and Jaclyn Onufrey placed 3rd in Forestry; Jake Kaplan and Sophia Liu placed 5th in Water Quality; and Isabella Swyst and Kaitlin Pfundstein placed 8th in Geologic. The rest of Team A, Hailey Orgass, Jillian Rodesk, Alyssa Kelly, Kenny Peluso, Avery Kratzer, Adam Aponte, Jonathan Schifman, and Belinda Liu, did an outstanding job in their events guaranteeing their team a place in the statewide competition.
Team B won a total of two medals: Jamie Redes and Alex Diaks placed 1st in Write it Do it and Kyle Rhodehouse and Blake Andreou placed 8th in Triple E. Marissa Pollack and Alyssa Soethout won 7th place in Water quality for Wantagh Team D.
Spirit Captain, Hailey Orgass along with spirit committee, Colleen Schaefer, Jennifer Follo, and Samantha Magnes made dozens of posters and over 200 cupcakes to spread spirit throughout Kellenberg. Keeping pace with Wantagh's twitter theme, the account "@TaghSciOly" has received a lot of attention from Science Olympiad team members from other schools. Students tweeted at Wantagh dozens of tweets such as, "Tagh Sci Oly did an awesome job yesterday and had the best decorations! #SeeYaAtStates," and, "Go Warriors #SciOly2013!"
The team couldn't have accomplished all this success without the hard work and long hours of their coach, and popular physics teacher, Richard Colavita, who has been coaching Science Olympiad for eighteen years at Wantagh.
The Science Olympiad State Finals areMarch 8th at Monroe Woodbury High School in Central Valley, New York. The first 2 teams will advance to the National Competition in May. Congratulations to all the students who participated and good luck at State Finals! Wantagh couldn't be more proud of the hard work put in by all of the Science Olympiad team members.