Blizzard Batters Suffolk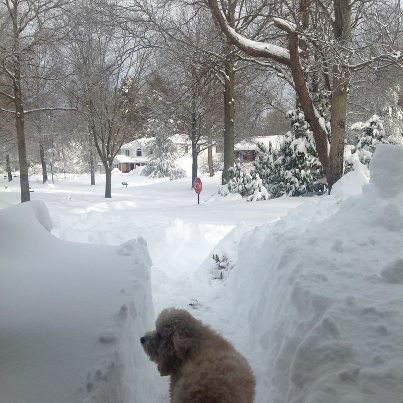 Fortunately, not many Nassau residents found Nemo, February 8. Weathermen and news anchors alike warned Long Island of this "historic" storm that called for State of Emergency in many states including New York. Nemo was predicted by National Grid, running the storm response for LIPA, to cause as many as 100,000 power outages. The area saw a high of 43,000 outages. The reason for such commotion was the recent wrath of Superstorm Sandy which has forced any coastal areas to take extreme precautions when a storm strikes.
Sandy blitzkrieged Long Island, specifically Nassau County. Some residents are still not back in their homes. Suffolk County experienced power outages and outrageous gas lines as well, but got off easier than Nassau County. Things were a little different during Nemo. Suffolk inhabitants were greeted by an uninvited guest- 30 inches of snow whereas Nassau came out of the blizzard with around 15 inches in most areas.
The snow was coming down so hard in Suffolk, Friday night. The residents were still driving, causing many to get stuck in their cars, clogging the roads and highways. Some spent a freezing night in their cars til they were rescued. The LIE ended up with around eight inches of frozen snow and was closed from exit 57 to Exit 72 until February 10 so workers could clear the roads.
Mr. Shapiro went out to Middle Island with his snow-blower and dug out three people whose cars were implanted in the snow. Mrs. Lopera claims to have Post Traumatic Stress Disorder after venturing out in the blizzard. "I feared for my life. I was driving home from snow-free Queens and as soon as I got on the Cross Island Parkway, cars were doing 360s. I couldn't see a thing."
Train lines were shut down, flights were cancelled, and highways were blocked off. But the anguish was temporary and the resilient Long Islanders had a quick recovery, especially compared to Sandy.