Escape from Reality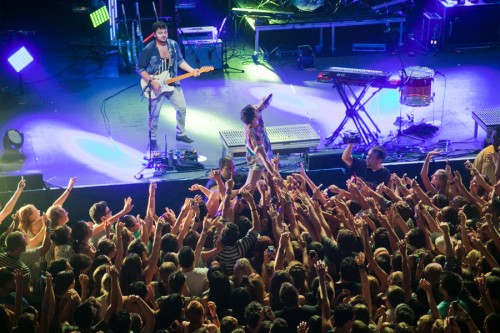 I have waited hours for this moment. The music in the background stops playing, the lights go out, the crowd starts cheering, jumping, screaming the band's name, and it all comes at once. The band starts to come on stage and the audience is charged with energy. Although everyone arrives separately at a venue when going to a concert, at one point during the performance you become one. You sing, dance, and jump as a whole. Everyone in that small arena is there for the same reason you are. I attend many concerts a year for that reason.
Going to concerts are a way to connect with people who share a common interest. You could spend hours outside of a venue waiting online to get in. In that time, you converse with your neighbors online and form a bond. While waiting, you talk about what you like most about the band, your favorite song, and how much your legs will hurt by the time it's over. Meeting new people is one of the best elements of the whole experience.
Everyone sings in their bedroom at the top of their lungs. You can't deny it. Concerts are like everyone singing in their rooms, just all together. No one cares if you sing out of tune; scream the lyrics or jump and dance. Indie band WALK THE MOON had a concert on September 20, 2013 at Terminal 5 in NYC. Being a part of that crowd is one of my favorite experiences ever. I have never felt that much energy in the crowd. Before they started their song "I Can Lift A Car,"lead singer Nicholas Petricca encouraged the crowd to let go and be themselves. He talked about how some of us had to go to work or school on Monday but that we were there and we didn't have to worry about that. Nick told us to let go of all of the stress, push it out of ourselves by putting our hands up and letting it out. It sounds odd but it actually worked and all of the stress was gone and I was able to focus on being in hot and sweaty terminal five and focus on the music. At the end of the concert, the crowd still wanted more. There was so much energy and I wish I could experience it every single day. There is a picture from that night and a reporter said that the photographer had turned around to take a picture of the crowd. She said "this is what a band wants to see from the stage." You can tell everyone in the picture is giving it their all, and expressing themselves. The band tweeted that night that it was a dream come true.
Concerts are a way of hearing your favorite songs in a different fashion. You are able to connect with the band on a more personal level and if you're lucky enough, meet them and tell them why their music means so much to you. By attending these concerts, I am able to forget about everything else in the world for two hours or so, focus on the music and have a great night that I will remember forever.