Two Years After Sandy, Some Wantagh Families Are Still Not Back in Their Homes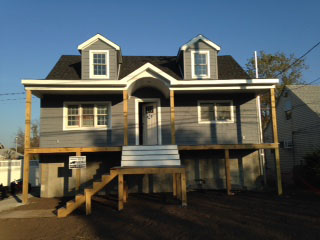 As the two-year anniversary of Hurricane Sandy approaches (October 29), Long Islanders are still displaced from the storm- including homeowners here in Wantagh. Many victims of Sandy are facing challenges in making the repairs to their homes. Some homes are still vacant two years later.
My family's home in Mandalay was flooded. To this day we are still displaced. Work began on my home April, 2014, 16 months after the storm.
I was lucky that my personal belongings like clothes, school stuff, etc. were upstairs so they were not destroyed. Kitchen appliances, furniture, our pool, and washing machines were destroyed. Others were not so lucky and lost everything. Oil tanks on our block flipped over so the oil leaked into our homes. All of the pots, pans, Tupperware, and other items that were in the lower cabinets had to be thrown out because they were soaked by oil. It would be unsanitary to keep them even after they were cleaned. All of our clothes and belongings smelled like oil. It took several washes in the washing machine before they smelled normal again.
My home had the smell of oil for about a year even with the downstairs of the house gutted and carpets ripped up. Right after the storm I stayed with cousins in Seaford for two months while my grandmother's home was being fixed up, as she too was displaced by Sandy. Once her home was livable, my family moved in to her house while our house was raised.
My neighbors Meghan Daly, a WHS senior, and her brother Patrick Daly, a freshman, are also still not home from Sandy. They have two brothers, Peter in seventh grade and Ryan in fourth grade. Reconstruction on their home has not started yet. It is going to be condemned and rebuilt as a raised home. They are currently living with their grandparents in Wantagh.
"It's been really challenging living in the same room as my three brothers, but we are trying to make it work," says Meghan Daly. "We've been waiting very patiently to get our own lives back."
Several homeowners have finished rebuilding their homes; some are still working on them. There were many possibilities in fixing up your beloved home. One way was to just do the necessary renovations and work you needed to live in your home again. Another way was to elevate your home. You have probably seen many homes elevated in the Mandalay area of Wantagh and in other towns on Long Island who live on the South Shore. Some people are even knocking down their homes and starting fresh.
Homeowners are still facing delays when it comes to fixing up their homes. In fact, it took my parents over a year to get the permit to rebuild. In order to do any construction on your home you need to get a permit by the town. Dealing with the town can be frustrating, between the town losing paperwork, excessive rudeness, and a general apathy over homeowners' distress. Still to this day, Sandy victims are fighting with the town, insurance companies, and NY Rising.
Children and teens that were displaced by the storm went through a dramatic and drastic change to their lifestyle. Right after the storm over 4,000 students were displaced. As of last year 300 students were still displaced.
Not living in my home is extremely challenging and frustrating. These past two years I have been trying to stay positive. After all, "we're stronger than the storm," as New Jersey Governor Chris Christie says. The outcome will be worth the long and overdue wait. Not having to worry about my house flooding again is also great. If another hurricane comes again, hopefully we will never have to go through these challenges again.