Transitioning from summer to fall fashion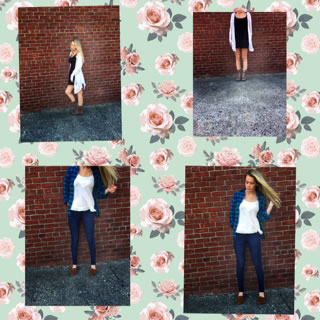 The seasons are changing fast. Clothes are progressively getting warmer as the brisk fall air brushes our cheeks. Sadly it's time for those denim high wasted shorts to make their way to the back of the closest. Luckily you could hold on to some of your summer pieces for a little while longer. Transitioning summer pieces into fall can be very simple if done right
Your simple black sundress days aren't quite numbered yet. Opposed to a denim jacket to keep worm, try a light knitted cardigan in a color of your choice. A pair of boots could be a nice alternative to your sandals or maybe even a pair of tennis shoes. Neutral colored ankle booties are highly trending for this fall, light colored converse are also a high trend. Putting your own individual twist on any style is important, so mess around with some accessories of your choosing.
Tank tops are another popular summer item. Most of the time tank tops can easily be styled though all seasons, but what about your pretty lase or linen tanks that you love to wear with sandals and the perfect pair of ripped jeans. An easy way to take your tank from chilly to warm would be to add a basic flannel, try to stick to fall colors. Instead of pinks and light blue, try a Kelly green, Navy blue, red, or tan. A good alternative to fully ripped jeans would be a pair with minimum rips like just a crossed the knee, that way you can still keep the relaxed feel from the rips. Swop out your sandals for moccasins and call it a look!
Whether you like to keep up with the trends or rock your own style, don't take these tips so literal. Style is personal. You know what looks best on you. Be confident and take pride in your appearance. Maybe try a new look. You never know you could surprise yourself with a new look!