Wantagh Gets Makeover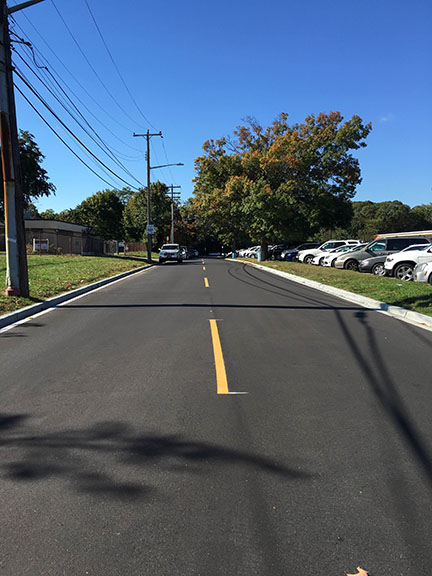 Wantagh High School has seen many improvements over the summer, from a new road and new parking spots to new lobby bathrooms. Although these may seem like small advances, anyone who works at or attends the high school knows that these are major and make getting through everyday easier.
The students and faculty of Wantagh were in for a pleasant surprise on September 1 as they drove on to Beltagh Avenue and realized that their tires were not in danger of going flat due to the numerous potholes that previously occupied the road.
"Nothing used to put me in a worse mood than the bumpy ride down Beltagh every morning," said WHS senior Audra McCarthy.
In addition to the freshly paved road, four new parking spots were added by the pork-chop. This is somewhat a relief for the seniors, but many are dissatisfied and feel it is not enough. Inadequate senior parking has been the top complaint here at Wantagh for years. The number of seniors driving to school every day, outnumber the available parking spots.
"Waking up at 5:30am just to get a parking spot is already getting really old and it's only September," said WHS senior Georgina Arianas.
Seniors are frequently ticketed for parking illegally along Beltagh Avenue, but they have no other choice. Mrs. Breivogel, our principal, said that she inquired with the Town of Hempstead about removing the 'no parking' signs from Beltagh Ave. or removing the island in the parking lot to make room for more spots. Unfortunately, the Town of Hempstead said because of traffic safety concerns, there is no possibility of any of that happening. The senior parking dilemma will be an inevitable struggle here at Wantagh forever, unless someone comes up with a solution.
Although people are not fully pleased with the parking situation, the brand new lobby bathrooms left everyone in awe. In previous years, the lobby bathrooms were small, claustrophobic, and outdated. They were fully renovated this summer and are now twice the size with many more sinks, stalls, and full length mirrors.
The library was fully renovated as well. It now has a more open and chic vibe. Equipped with brand new chrome books, couches, and a fresh coat of paint, it feels more modern and inviting.
The profuse amount of renovations is just the beginning to an exciting new school year.