October is Pink – Join the Fight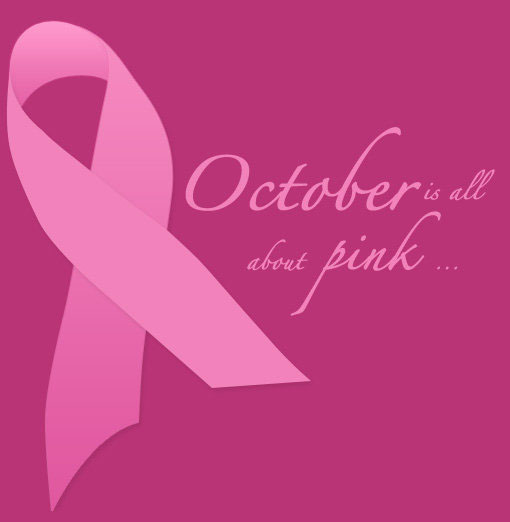 As we roll into yet another month of pumpkin picking and falling leaves, we also enter a month devoted to raising awareness for breast cancer. To the many victims who have experienced this terrible disease, October is not known for the Autumn entertainment that comes with it. To them it is a month known for the millions of tiny pink ribbons that symbolize victims who muster the strength to fight cancer.
About 1 in 8 women are diagnosed with breast cancer at some point in their lives. My mother was one of them. She was diagnosed when I was two years old. She had went to the doctor when I had elbowed her in the chest and she had felt a lump. She tried to keep me positive, shielding my young mind from her cancer. My mother said, "I was a young woman with a small child– when the doctor told me 'you have a very suspicious lump,' my world was turned upside down in a second. My biggest fear was what would happen to my child."
I was too young to understand much of what was happening. I can still recall, though, where my mother needed her blood taken or a bandana was tied over her head. I am extremely proud that she is currently a survivor for 12 years.
"I try not to worry because everything always works out," she now says. My mother continues to amaze me with her strength each day.
Breast cancer is the most common cancer among women. Men are not exempt from this dreadful disease. About 2,600 new cases of invasive breast cancer are expected to be diagnosed in men in 2016 alone. It is also expected that about 400 men will lose their lives while fighting this disease. Many people do not think of breast cancer as a threat to men, but breast cancer does not discriminate against genders. It claims victims, both men and women, all across the world.
Here in Wantagh, many citizens take a stand against malignant tumors. Wantagh students and teachers purchase "Warriors for a Cure" T-shirts and sport them around school.The American Cancer Society holds an annual "Making Strides Against Breast Cancer" walk at Jones Beach. It is such an experience to see the crowds of people that band together in support of a cause and to see how many people breast cancer has affected. This year the walk takes place on October 16 and I highly encourage people to attend. In October don't think of Halloween colors,orange and black, think the colors of true fighters, pink!