Witches Brew Serves up the Perfect Evening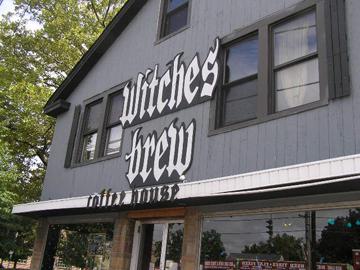 Bored and desperate for a change of setting, I'd grown tired of the go-to hangouts of Wantagh my sophomore year of high school and sought somewhere new. I didn't have a car or a license or even much money, but I longed to escape from my town for a night. It wasn't until my hippie aunt came home for Christmas that I finally discovered the perfect solution: Witches Brew, a unique, gothic-esque coffeehouse in West Hempstead. My aunt told me stories about the wonderful experiences she'd had there as a teenager, and the lovely, interesting people she'd met. Intrigued by the idea, I convinced her to take me there; upon walking in, I'd already fallen in love.
The Witches brew, which opened in 1996, can best be described as the physical embodiment of a never-ending Halloween. Strung on every wall are lights of vibrant purples and oranges, beautifully complementing the restaurant's overall dimness. Waiters and waitresses seemingly from far off magical lands serve lattes in pretty mason jars to vintagey, gothic-style tables surrounded by cozy sofas. There's not a bad seat nor a bad thing on the menu, but there's a catch: to get into Witches Brew on a Friday or Saturday night, you're looking at a wait of up to two hours.
When told of a wait longer than thirty minutes at any restaurant, typically you tend to reevaluate your dining options, don't you? No one likes a delay, especially when that means standing outside in questionable weather conditions with an empty stomach. There's always been something about Witches Brew, however, that almost makes you like the wait. It's part of the experience. You show up, give the greeter your name, head out to the rickety, faded benches on the side of the restaurant, meet some like-minded people, and hang out. You joke about how cold it is out, and how you actually can't feel your fingers, and Why do we do this to ourselves? But then your name gets called, and you thank God, and you say goodbye to your cool new friends and promise to stay in touch, and then you walk inside.
Once a secret little place known only by the hipster-est of hipsters, Witches Brew has grown immensely in popularity over the years; that's not to say, however, that it didn't always draw a crowd. Back in the late 1990s, when the spooky cafe first opened, it would receive complaints from neighboring homeowners concerning the noise levels and overwhelming presence of teenagers past midnight. On the busiest of nights, one could even see groups of funky teens lined up for blocks, willing to wait however long for their fix of the Brew. Twenty years later, and the only thing that's changed is the diversity of its crowd.
In addition to its delicious lattes and teas bearing the intriguing names "Black Cat," "Vamp," and others, Witches Brew also offers an irresistible vegan menu with foods of all sorts. With a menu exceeding five pages filled to the brim with options written in edgy, captivating font, it's quite difficult to not find something you like at Witches Brew.
And with everything interesting and spooky it has to offer, how couldn't you? "I love their s'mores and chocolatey drinks- I'm a complete chocoholic, by the way!" my aunt told me recently when the Brew came up in conversation, "And I still have contact with a lot of the people I met there so long ago. There's a bit of a magic feeling to that place, always has been…"