Uncrowned Queen of Intrepid Journalists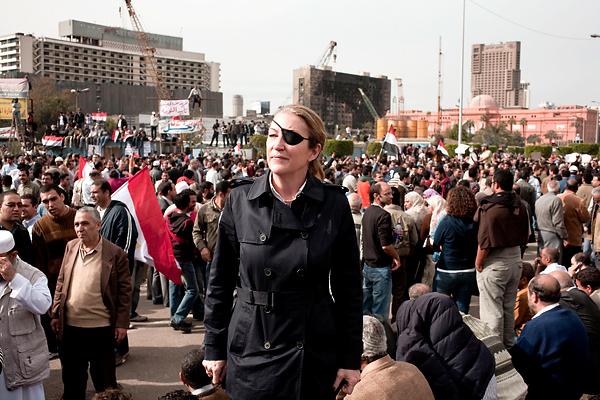 Marie Catherine Colvin
(January 12, 1956 – February 22, 2012)
The siege of Homs in Syria led to the devastating deaths of thousands of Syrians. Western foreign correspondents also fell victim to the perilous warfare. Marie Catherine Colvin, a 56-year-old award-winning American journalist who worked for The Sunday Times in London, was killed by a rocket fired by the Syrian military, February 22. Marie Colvin is survived by her mother, Rosemarie, two sisters, and her two brothers Michael and Bill residing in New York.
Bill Colvin, a retired NYPD detective, is currently a security guard at Wantagh High School.
Marie Colvin's proximity to war zones allowed for her writing to be infused with immense passion. As a foreign correspondent, her life was regularly put in danger. This fearless, passionate, and remarkably dedicated journalist was highly regarded. Also killed in the attack was French journalist Remi Ochlik .
Due to a blast by a Sri Lankan Army rocket-propelled grenade, Colvin lost sight in her left eye. Thereafter, she wore an eye patch. This eye patch became a symbol of not only the dangers of foreign corresponding, and the downfalls of her passion – but also, it became a symbol for Marie Colvin, herself. Colvin became recognized for her eye patch and her fearless spirit
Marie Colvin was the first to interview Muammar Gaddafi after Operation El Dorado Canyon. In East Timor, she saved the lives of over 1,500 women and children. After rescuing them from a besieged compound, she stayed and reported from a unsecured United Nations compound. She was then recognized by the International Women's Media Foundation, receiving the Courage in Journalism in 2000. This was for her reporting on Kosovo and Chechnya. She also won two British Press awards. Marie Colvin was more than a journalist, she was a heroine.
Her passion resulted in grueling nights spent hiding from foreign attacks, countless months away from family, and it ultimately took physical and mental tolls on her. Colvin suffered from Post Traumatic Stress Disorder. Her perseverance was admirable, as she continued to do what she loved. Her purpose, she said, was "to bear witness," and to bring to light the "humanity in extremis pushed to the unendurable.
After Syrian President Bashar al-Assad pledged to kill any journalist who set foot on Syrian soil, her desire to expose the inhumanity made her stay. Rosemarie Colvin was extensively quoted in the media as saying the Syrians targeted the makeshift media center where Marie Colvin and Ochlik were located.
Her restless attitude was emulated by her mother when she refused to rest until her daughter was brought home. After sneaking in illegally on a moped, she was unable to leave, even after her death. The Syrian government refused to release her body, until, after much pressure by U.S. and French government officials, she returned home to be properly honored.
At her funeral, she was honored for not only her journalistic accomplishments, but also for her ability to be a true friend even while she was across the seas.
Her mother continued to speak of her daughter through her struggle of coping with the loss. She wouldn't want to be a "no comment" story, she explained. Her mother allowed her to live on through the stories of her triumphs and hardships as a war correspondent.
Her story is inspirational. The students at Wantagh High School are able to more aptly connect to her immense impact on international journalism, and cultural awareness. Her brother, Bill Colvin, patrols the hallways living on her memory.
"She was always in dangerous situations as a foreign correspondent," said Bill Colvin. "But she always managed to get out. After the Sri Lankan attack she was evacuated to a NYC hospital where they saved one of her eyes. But what was more important to her were the stories that she brought home when she would come to visit. She didn't care about the fame, she cared about raising awareness. I continue to be proud of my big sister every day."
Marie Colvin, who grew up in East Norwich, Long Island, was an American war-hero of a different sort – she used her words and eloquence to deliver a message. A group of Tamil people gathered outside her funeral. As quoted in the New York Times, "We lost our friend," said Pat Pathmakumar, a member of the group, adding: "I never met her, I never talked to her. But when I heard she died, I cried."
Above all, Marie Colvin, sister and friend, is endlessly revered and respected, and infinitely admired. To answer her question, "What is bravery, and what is bravado?" Marie Colvin is both.