2012 Bully Breed Brigade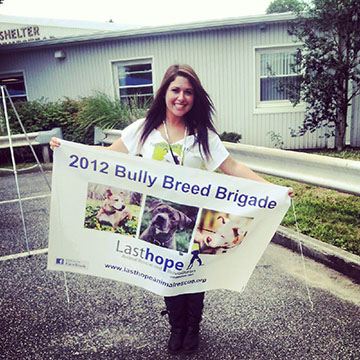 Hempstead Town Shelter and Last Hope Animal Rescue hosted the second annual Bully Breed Brigade to promote Pit Bull awareness on behalf of these often misunderstood dogs, September 22, 2012.
Over 30 rescues, shelters and vendors from as far away as Southampton and Connecticut came to the Hempstead Shelter parking lot. They brought some of their own dogs from their shelters to march in the Pit Parade on Beltagh Avenue. Then the dogs walked across the stage, one at a time, while their biographies were read to promote their adoptions. Earlier in the day, some Pits got to test their muscle power in the informal weight pulling competition. Each dog wearing a padded harness was hooked to a plastic sled which was loaded with bags of dog food, while the dog was lured with hot dogs.
Tia Torres and the Twins from "Pit Bulls & Parolees" on Animal Planet arrived in the afternoon to talk to the crowd about the dogs, sign autographs and take pictures, and to continue filming her show. Filming continued on Saturday during the Bully Breed Brigade.
After the crowd left, Tia spoke to the Hempstead staff and Last Hope volunteers, telling them how much worse the Pit problem is in New Orleans. In New Orleans, stray dogs are regarded as property and are allowed to roam. Tia Torress' new season of "Pit Bulls & Parolees" will be premiering October 6, 2012 for her big season premiere.