The Girl Who Tweeted Wolf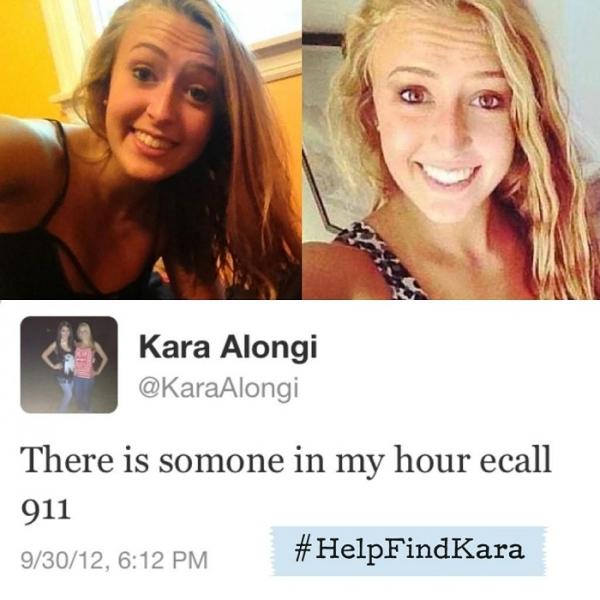 "There is someone in my (house) call 911." When 16 year old Kara Alongi of Clark, New Jersey tweeted that an intruder was in her house on Monday, October 1, the social media world went into complete panic mode, causing over 32,700 retweets and #HelpFindKara to trend all in a matter of minutes. An estimated 6,000 calls to the police were made due to the power of this one tweet. Turns out that Kara Alongi's complete tweet was a hoax. Some say it was a cry out for help and other tweeters thought it was just a scam for her to amp up her follower ratio.
Soon after Alongi's tweet set fire to twitter, investigators found that Kara had called a cab driver (who later on confirmed that he gave her a ride) and was dropped off at a local train station. When K-9 cops arrived at Alongi's home, they tracked her scent out the back door of her home and through the neighbor's backyard, where the scent then disappeared. The fact that the tweet was a hoax was confirmed again when a surveillance picture of Kara Alongi at the NJ transit Rahway in Union County was released. Within about 24 hours, officers found 16 year old Alongi walking along the New Jersey Turnpike in Carneys Point.
People of twitter all around the world had kind hearted tweets in regards to Kara Alongi's alarming tweet at first. When something like that occurs, it is hard for people to turn the other cheek. Many others were skeptical of what she tweeted, Alongi's account later saying: "Why is everyone saying I'm missing? I was jkin haha," which was deleted a short time after. Although her parents are more than grateful to have her back home safe, no one is quite sure why she did what she did. Some people are so angered by what she did that they are classifying her as "the most hated girl on twitter," but no matter what she's dealing with she deserves the benefit of the doubt.