Remembering Brittany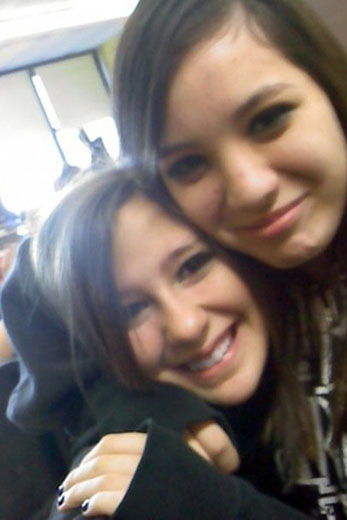 On that Wednesday September morning I woke up at 5:30 a.m., checked my phone and saw two text messages, one from my best friend and one from my boyfriend at the time. "Hey girl what's up?" wrote my best friend, Brittany.
"Nothing much just getting ready for school…kill me." I said.
"lol," she wrote.
I got ready for school. We sent multiple text messages back and forth until about 6:15ish. She said she was ready to cross Sunrise Highway so I told her to be careful and text me when she crossed the street.
She never answered me so I texted her asking what she was doing because school was starting. It was before homeroom and I looked at my phone again. Her dad, Danny, had called me and I had missed it. I thought nothing of it and just carried on with my morning thinking it was a mistake or that he was trying to find his daughter.
He called me again during second period. I couldn't answer. He called again at the end
of third period. "Hello?" I said.
"Hi sweetheart are you in school?"
"Yeah," I said "What's up?"
"Nothing I was wondering if you were with your father. Can I call him? Is he working?"
"You can call him," I said.
"Okay sweetheart I love you."
"I love you too, bye" and I hung up the phone.
I was walking in the hall and looked at the most horrible text that I have ever seen that said that my best friend, Brittany Vega, had been hit by a car and was dead.
I thought it was a joke and replied, "That's not funny. What the hell?"
"I'm not joking," a friend said.
At the time my brother was dating Brittany. I ran into him in the main lobby. He asked me if Brittany was in school today. I said she should be and I told him jokingly that she was killed by a car.
He said the same thing I just had, "That's not funny."
I said, "I'm not joking." But being the stupid 13 year old I was I didn't think that her death was reality. That was from a time I felt invincible. I walked up the stairs to the art room and began to shake. Could it be true?
In the art room students whispered about Brittany. Were they all looking at me, her best friend? I heard "I'm sorry." It hit me. The bell rang to start 4th period. I sat down in my seat and texted my boyfriend and said that Brittany really had died that morning.
"That's not funny you don't joke about things like that," he said. "I'm calling my mother to pick me up."
Brittany, my boyfriend and I had become very close with all of my friends and my brother so we all hung out together. I walked up to Mr. Parlagreco and I asked if I could get a drink.
"Did you know Brittany Vega?" he said.
"She was my best friend for the past year," I said.
My dad texted me and said, he was picking me up from school and we were going home.
My dad ran into the school in tears. I had never seen my dad cry. I was so scared. I walked into the main lobby and saw my boyfriend with his mom and I fell into his arms.
Later that night we went to the spot on Sunrise Highway where Brittany Vega, a couple of weeks into her freshman year of high school, had died. I brought her a blue dinosaur and wrote "to Vegasaur <3 Britt" and I realized that I wanted to bury her with this. Later on it rained hard with purple lightning. I felt so helpless and confused. I don't remember much of my freshman year. I failed most of my classes because I was out of school for two weeks after the accident. Three years later, that awful Wednesday September 22, 2010 feels like yesterday. We always talked about driving and going on these major road trips. We talked about our senior prom. We talked about going ice skating, which we never did because we couldn't skate. I miss her so much. I still can't believe that she died while walking to Wantagh High in September of our freshman year.