Protestors leave Footprints In Hopes of Saving the Planet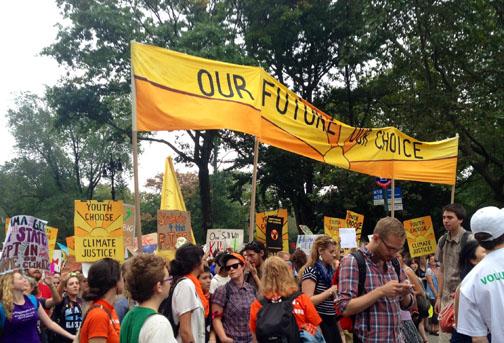 Imagine being an isolated soul in a massive crowd, where you don't know a single person. Together the voices and mind narrow down to one huge spirit. I was surrounded by an empowering joyous vibe swarming Central Park West, September 21.
This harmonized flock of protesters were all there for one reason, to try to save our planet. The fiery crowd spread as if the streets were painted with oil. In the middle of a steaming, rambunctious horde, an extraordinary moment had occurred. Everything went silent – a beautiful, surreal instant of utter silence. Hundreds of thousands of determined hands heaved in the air for a symbol of unity in Earth's environmental crisis.
On this particular Sunday, more than 300,000 people marched the streets of NYC to support the People's Climate March. Maybe you've seen a headline referring to this protest or maybe you've been bombarded with posters and ads. Lots of adults and children might still be asking themselves: "What is this monumental movement?"
The march started at NYC's Columbus Circle and people from around the globe gathered as one to fight against climate destruction, fracking, global warming and the spread of carbon emissions. The crowd was stunned to see senior executives of major global businesses marching along with communists, socialists and anarchists striving towards climate justice. Celebrities included Jane Goodall, Leonardo DiCaprio and Al Gore.
Three days after the march, world leaders debated environmental action the UN climate summit. The White House was on board, too.
"(We want to) show the world that the U.S is leading on climate change and to call on other leaders to step up to the plate," said John Podesta, counselor to the president, in a Sept. 22 Huffpost.com article.
A participant of the march, and a big time opponent of fossil fuels, Robert Peretti, said, "I want us to explore rapidly and totally the use of alternative fuels to fossil fuels. That's why I am here." Peretti attends conservation meetings around the country, and he recently joined the meeting for world leaders at the UN before the march. The climate devastation has affected him personally; he is a grandfather and desires for his grandchildren to grow up in a safe environment. He also wishes for an environment that allows them to thrive economically.
"We've already passed peak oil (production)," said Peretti. "The supply is diminishing, it's not going to meet worldwide demand. I don't think natural gas is the answer because fracking, like oil, will make a few people rich but it will also be an environmental disaster as far as water pollution and so on. Then the people who pull the natural gas out of the ground are going to look for a strong export market which will keep domestic prices high."
He added that because oil reserves are declining, he believes people should start using alternative fuels.
Now it's within our power to spread the word and to fight for climate justice. In this day and age, we have the technology that it takes to change, such as transforming homes in America from energy consumers to energy generator producers. The investment is costly, but it's no more expensive than paying the utility companies.
The People's Climate March will be a day remembered and marked down in history.
"We want to be the new face of the environmental movement," a young protestor said.