One of Wantagh's Most Beloved Traditions: Homecoming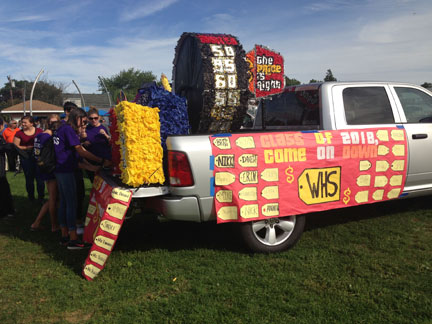 The distant sounds of laughing, talking and marching consumed the surrounding areas of Wantagh Elementary, where every Homecoming celebration begins. This year marked the 61st annual Wantagh Homecoming and the whole community lined Wantagh Avenue to watch the parade, September 27.
The parade had classic performances by the dance team as well as the band but the Classes of WHS had a new take on an old tradition, pick-up truck floats. This year's theme was games and all classes brought something unique to the table. The senior's truck showcased the "Wheel of 2016." "Are you smarter than an 11th Grader" represented the junior class and the sophomore class selected "The Price is Right." The most creative was the freshmen class which created a Family Feud tribute on the back of their truck along with a mock Steve Harvey, played by Freshmen Carlos Tobia. At halftime the juniors were announced the winners. The seniors came in second, the juniors in 3rd, and the freshmen came in last.
The Wantagh Warriors had a perfect Homecoming game blanking the Long Beach Marines 28-0. During the game three TDs were scored. Senior Kyle Silwak, number 34, set up a touchdown in the 4th quarter with an 80-yard interception return.
But the main attraction was half time with performances from the Wantagh Varsity Cheerleaders, Wantagh High School Marching Band and the Wantagh Varsity Dance team. There they announced this year's Homecoming King and Queen Luca DiMatteo and Nikki Silwak. Their court was comprised of first runner-up Nicolas Barberio and Danielle Merting and second runner-up Brian Connolly and Keriann Balnis.
So went the quintessential Homecoming: great weather, Wantagh shutout victory, and the snack shack making bank on moderately good food.