Ms. Strouse's Students Profit from Her Business Connections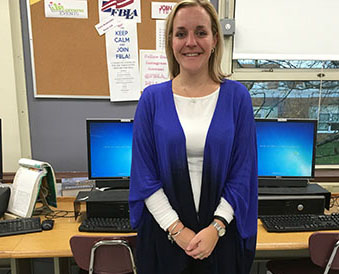 While Ms. Compagnino is out on leave taking care of her new baby, Ms. Strouse has taken over her classes. Ms. Strouse has always had an interest in education and business comes naturally to her. She says that all the teachers here at Wantagh High School are there for the students.
"It's a great district," she says. " I'm so lucky to be here."
Being a business teacher enables Ms. Strouse to help prepare her students for college and their careers. Her strong business background and ability to connect real world experiences are particularly helpful while teaching. She expects her students to be honest, prepared, considerate to everyone in the classroom, and unafraid to say "I don't get it." Ms. Strouse wants her kids to do well and come to her if they have any problems doing such. Additionally, she finds herself able to relate to her students. She hopes that the students' time in her classes will be invaluable to them when they get to college and begin their career.
While Ms. Strouse really enjoys teaching, it is a challenge to balance keeping her classes enjoyable for those students who have taken business classes prior to the current year, and those students that are beginners. The benefit of that is it creates a very team-like atmosphere where everyone works together.
"After a year in my class, I want them to realize that I was fair and hopefully they'll remember later why I do what I do," she said.
Ms. Strouse grew up in Smithtown; she attended Smithtown High School, where she was involved in DECA and played softball and tennis. After high school she earned her Bachelor's in Marketing from Dowling and then achieved her Masters in Secondary Education from there a few years later.
In her free time, Ms. Strouse loves to spend time with her son Brandon, black lab Dora and her family and friends. She also enjoys shopping and reading. She recently finished "Etched in Sand " by Regina Calcaterra.
Overall, Ms. Strouse is a very committed, hardworking teacher who wants her students to succeed and will do anything to help them achieve such. Undoubtedly, Wantagh is very fortunate to have her for another two months until Ms. Compagnino returns from leave on February 1.