Chess Club: Relaxed but Competitive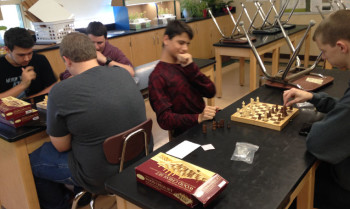 The chess club, a new addition to Wantagh High School has been started by James Moran. He was very excited when the school board approved it, as an avid chess player. Meeting every Monday, the chess-playing students of Wantagh gather for a great deal of competition. Often, when a game is close to ending, everyone gathers around to see the fierce competition, internally placing bets on who shall win. The usually loud club falls silent to allow the opponents to concentrate. Chess may seem like a tame activity, but it can be very intense.
Club president Moran has played chess since he was in elementary school, when his friend taught him how to play during indoor recess. Ever since, he has been playing this intense game, sharpening his skills, and acquiring strategies to use during play. "I combined my affinity for the game with my drive to improve the high school community in creating this club," he said. "I noticed the high school didn't have a chess club, so I set out to create my own."
Besides the intense competition, one of the best parts of the club is how social it is. Everyone laughs and hangs out and is very relaxed, except for when a game is close to being done. All types of students are made to feel welcome, and people feel good about themselves for being a part of it. With time, you will go from being a mediocre chess player to a confident chess player. Some members started out not knowing how to play at all and they have become very competitive through practice. Come join us on Mondays in room 203 to play some chess and make new friends.