Imagine all the Guidance Counselors Living Like Ms. Lennon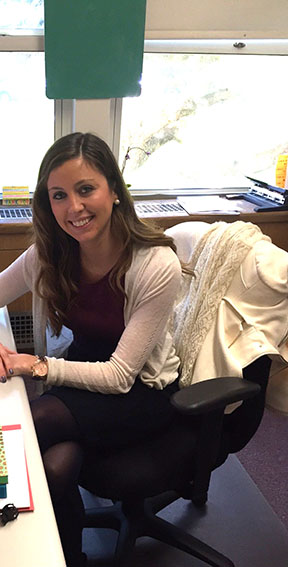 Over this school year and the ending view months of last, Ms.Lennon has been the maternity-leave replacement for Mrs.Malafis. Stepping in as guidance counselor, she has taken on all of Mrs.Malafis' students.
"I was thrilled to be given the opportunity, and ecstatic to start." Lennon said. " I knew I had big shoes to fill and I couldn't wait to form relationships with each of my students."
Starting her journey as a guidance counselor at SUNY Cortland for her undergraduate degree, Ms.Lennon always knew she wanted to be a counselor."My guidance counselor had a huge impact on me," said Lennon. "I think it's a special and unique position in a school; you get to interact with students in a different way like no other job in the building."
After finishing off her masters at LIU, Lennon worked in Rockland County as a leave replacement for a counselor. Following the leave she worked in the LIU admissions office. Working in this admissions office gave her the inside scoop on how the admissions process works and how applications are processed. Knowing all about college allowed her to be an excellent tool for high school seniors college search and underclassmen needing a hand.
Going into the Guidance department career, every student becomes personally and academically a responsibility of the counselor. Ms. Lennon shows great promise for future jobs and has set up each student with the option to confide in her anything they need. Being a part of the Wantagh community "…every single person I came into contact with was so helpful and friendly to me." Lennon said. "The students and staff, and community were great, and
made me feel welcome. It is such a nice place to work." Although sadly her time at Wantagh will end in June, she has aided each student with anything they need to succeed.
Every student comes with a story. Ms.Lennon believes it is her job to be there to help them with whatever they have going on. With the addition of student services, the guidance department is there to assist the students. "I love working with kids, and I love being able to help students whether it be personally, academically, or socially." said Lennon. "I like listening to what the student has to say, and be able to understand their point of view."
When Mrs. Malafis returning next year, Ms.Lennon will moves on to different opportunities next year. But she will always be a part of the Wantagh community. Over the past year she has gone above and beyond for her students. Her dedication to her job will make her a wonderful guidance counselor.