Hard Work and Drive Equal Success for News 12's Erin Colton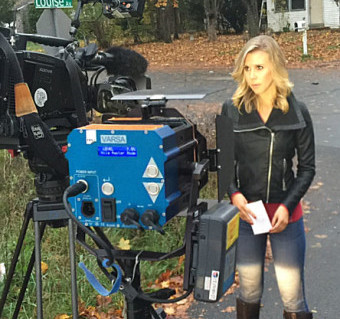 Of all successful students who have graduated from Wantagh High School, Erin Colton stands out. She has been nominated seven times at the Emmys and has one win for her television reporting.
Her interest in journalism began here at Wantagh High School. Colton then graduated from Syracuse University's Newhouse School of Broadcasting, which is one of the best journalism programs in the country. She is now a reporter for News 12 Long Island.
Colton won an Emmy for her story about a Long Island man, who used training for triathlons to battle his drinking and drug addiction. He was competing in his first Ironman, so she went upstate to Lake Placid to follow the story. Colton said, "I ate, slept, and breathed this man's story." She said she didn't expect to win the Emmy. When they called her name out that night she thought, I have to go on the same stage all those great people are on? And give a speech in front (them)?
Colton said taking journalism in high school sparked her interest. She said the first person who influenced her was Mr. Kravitz, who has advised the school newspaper for the past 24 years. His class was her first exposure to the world of journalism through writing articles, checking facts, spelling, grammar, and taught her how to do everything. The Newhouse School of Broadcast at Syracuse helped her "tremendously." She was "able to walk out of the doors with a bachelor's degree, ready to hit the streets as a news reporter."
She said she knew she wanted to do something on TV but didn't know if it would be specifically journalism. She had a sports background here at the high school, so she put journalism and sports together. At Syracuse she majored in sports broadcasting.
When Colton was growing up, her favorite station for local news was ABC7 Eyewitness News. She looked up to the reporters on ABC7 Eyewitness News. Believe it or not, she doesn't remember watching News 12 Long Island. For the sports side of journalism she looked up to Linda Cohn. She eventually got to meet her and Jenna Wolfe. She interned for Wolfe, and got a good understanding of what it was going to be like.
Colton describes a typical day at News 12 as "chaos." She wakes up at 2:30 am and is out the door at 3:15 am. At 4:00 am she is out on her story. She is live on the air by 5:00 am. She says a lot of her day happens very quickly, and you just have to keep going until you get your first break.
"No bad wake ups, bad sleeps, groggy days, puffy eyes," she said. "You just kinda have to roll with it, get up, and go. Almost like I'm a first responder."
Colton said she never thought about if she was going to be as successful as she is now. She also said she wouldn't have taken something on, if she didn't know she would be able to do it well. She knew it was going to take time, but it went quicker than she imagined. Colton doesn't think you can do anything, or aspire to do anything, if you don't think you will be great at it.
Colton was offered many jobs working at city stations, but turned them all down to stay at News 12. She spoke about how important it is to be happy at your job. She doesn't have a specific goal for the future. As long as she is telling stories, and giving people the information they need every morning, she is happy.
"You could be offered the world, you could be offered lots of money," she said. "You could be offered lots of things and promises, but if you can't make yourself happy with your new job, then you are nothing. News 12 makes me happy, or at least I am able to make a happy life there."
On News 12 Long Island, Colton's snow angels have become very popular. She said they were a "spur-of-the-moment thing." After being on the air for ten hours straight, she got bored and figured why not do something fun. From that day on it stuck and she can't believe that it is what it is.
Colton is also an assistant coach for the girls' varsity basketball team here at Wantagh. She works with Coach Bujacich, who was her Wantagh basketball coach. She says it feels fantastic and really good to be back coaching. For Colton, it felt weird seven years ago when she first started, even though she was younger and more accustomed to the school. Now the team is like her second family. Colton is able to click with the girls each year since they look up to her, and at times, she looks up to them too.