Extra! Extra – Read all About Wantagh's Journalists Success at Adelphi University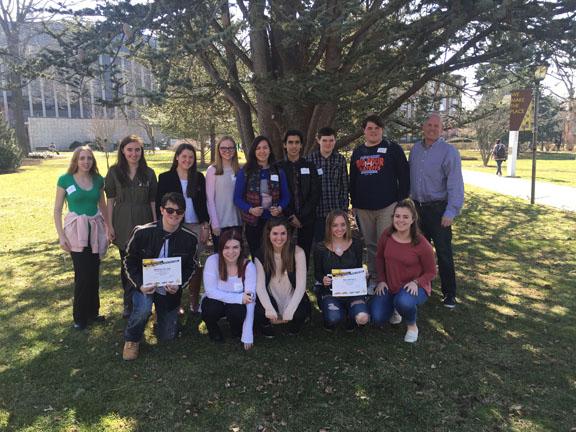 Read all about Adelphi's Press Day! What went down on March 9th? What happened at Adelphi University? This is the inside scoop on the who, what, and why Adelphi University's Press Day.
Nearly thirty schools and over three hundred students attended this event. These schools came from all over Long Island, with a mix of public and private schools. Also in attendance were key speakers who headed a discussion panel and the coordinators of the program. Adelphi's Press day composed of the arrival of students, breakfast, welcome address, a panel discussion, walking tours of the university, condensed group discussions and the presentation of awards for the Quill Award Competition.
Why were WHS journalism students allowed to skip school that day? Why else than to bring home the gold. The Quill Award competition was the main attraction of the day.
Wantagh won three awards in the 15th year it has been in this contest. First up is Senior Editor in Chief Nyatasha Jackowicz, who won First place in Best Sports Story or Column for a column on her experiences as a female wrestler on Wantagh's male-dominated team.
Then another of The Warrior's Senior Editors in Chief, Mathew Schroh, won Second Place in the Most Outstanding Reporter category. Schroh's award marked the sixth time in the last eight years that a Wantagh reporter won the honor of being the Most Outstanding reporter in this contest.
Wrapping up the awards was senior Associate Editor Sara Sneddon who captured Second Place for Best News Article. Slightly different from Schroh's accomplishment, Sneddon was only the second Wantagh journalist to ever win in this category. This year was another year of success for The Warrior Staff. The writing at this competition was fiercer than ever and next year the journalism staff at WHS will need your help. If you want an opportunity to write breaking news and be recognized for your skills then add journalism to your class schedule Journalism before it's too late!