Mrs. Butler Inducted into Nassau County Athletics Hall of Fame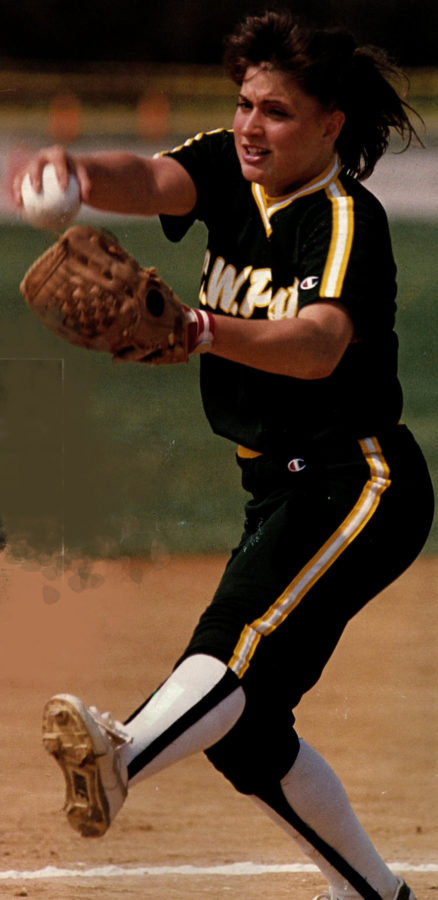 Mrs. Butler, a Wantagh High School special education teacher and Wantagh graduate, is ecstatic to have been recently inducted into the Nassau County High School Athletics Hall of Fame. Mrs. Butler was a standout three-sport athlete here at Wantagh in the 1980's.
Upon receiving the letter, she was stunned. "I was completely dumbfounded," she said. "I opened the letter and stood awestruck. When my husband noticed my demeanor, he read the letter too and looked at me with wide eyes. We were both shocked."
"I've always been surrounded by sports," she says. "My father has been coaching since before I was born. As a child, I was constantly on ballfields watching my dad, or my brother, who also had an interest in sports." Her brother has been her role model through it all and he took part in inspiring her love for sports.
Mrs. Butler's father is Mr. Joe DelGais, who many Wantagh students know well as a substitute teacher here at Wantagh for the past several years, after he retired from a 35-year career teaching social studies at Baldwin High School. He also coached varsity football at Baldwin, Lawrence and Freeport in addition to two other schools and has been the 7th grade football coach here at Wantagh for the past five years.
In fact, Mrs. Butler is one of three generations of her family currently at Wantagh. Her nephew, Joe DelGais, is a senior this year and her niece, Marykate DelGais, is a freshman.
As a child, Mrs. Butler played basketball, volleyball, and softball. Her strongest love was for softball. "I played varsity softball starting in 8th grade," she said. "It's a sport you either love or you don't."
She won All-County Honors in softball from 1983-86, volleyball from 1984-86 and basketball from 1984-86. "Winning All-County Honors was definitely a lot of work, but it was beyond worth it," she says. "If it wasn't for my coaches constantly pushing me, I wouldn't have got there. They deserve credit, they motivated me."
Mrs. Butler has had several great moments within her career, but one of her best was in 1982. "Playing in my first softball Nassau County Championship as an 8th grader, and winning, was definitely my proudest moment," she says. She also had an incredible experience in 1984. "We were the first Nassau County Softball team to go to the states," she says. And in 1986 she cherished being on the first Wantagh High School basketball team to go to the counties. She continued with her athletic success at CW Post. And she is already in the New York State Softball Hall of fame, inducted in 2014.
A number of famous Athletes are also being inducted into the Nassau County High School Athletics Hall of Fame Class of 2016 with Mrs. Butler. Mrs. Butler feels privileged to be included. "It's unrealistic. I would never have imagined myself there with them," she says. "And considering only two female athletes are being inducted, that made it even more astonishing."
The 2016 class is composed of 31 inductees, including Julius Erving, NBA/ABA Champion of Roosevelt H.S.; Al Oerter, 4-Time Olympic Champion of Sewanhaka H.S., and local legends like the late Frank "Sprig" Gardner, wrestling coach at Mepham High School from 1937-1963 and the late Doug Robins, baseball coach at Levittown Division High School for 31 years. The induction ceremony will take place on September 28.
Mrs. Butler is truly grateful for this honor. "I would not be receiving this recognition had it not been for my family, coaches, teammates, officials and administrators," she says. "Wearing Black and Gold as number 21 or 12, to this day, is something I take great pride in."
Some additional highlights of her career include scoring 999 career points in basketball which was a Wantagh scoring record until Alex Parlato broke it in 2015. Another highlight was when Butler learned she was the first windmill softball pitcher on Long Island.