Jeryl Ann Cosgrove, 1952-2016, Will Be Greatly Missed by Wantagh Community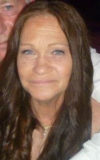 Jeryl Ann Cosgrove, a loving mother of three, grandmother of four, and dear friend to so many Wantagh High School staff members and students, passed away on September 7. Working hard in the cafeteria by day, and even harder as a custodian at night, Mrs. Cosgrove, 63, was diagnosed with lung cancer shortly after having a pneumonia near the end of June. She is survived by three daughters Jennifer, Crista and Sarah, who all graduated from Wantagh High School as did she. Mrs. Cosgrove worked in Wantagh High School for 18 years as a loyal, funny and intelligent employee. Her family was well known in this school as her parents taught in the district.
She was a wonderful person who everyone loved. She even invented the chicken wraps sold for school lunches. How could you not admire her so much. Leslie Mittleman, who worked with Mrs. Cosgrove in the high school cafeteria for 13 years, said, "She loved to laugh and loved to tell jokes, she even liked to play pranks on people." Wantagh custodian Dan Smith was her boyfriend for 14 years. He is devastated at losing her. He had so much love for her and knew how to make her happy.
"Her laugh was contagious and she was always smiling" says Mrs. Fugazzi, the health teacher at Wantagh High School.
She always helped others and will always be remembered. Mrs. Cosgrove always lent a hand when someone needed it. She was very sweet and easy to get to know.
It was the little things that she did that made everyone respect her. She was the women in the hall that you couldn't ignore, even a wave would be good enough to make her smile.
"After spirit night I collected all the bottles and she kindly brought them to the recycling bin for me," says Wantagh High School senior Annie Goode
I'm sure if Jeri were here today she would thank everyone in her life for being so loving towards her and let her go with a sense of peace knowing that she has so many people who can look after her family and make sure they are safe.