Class of '17 Makes Dreams Come True at Homecoming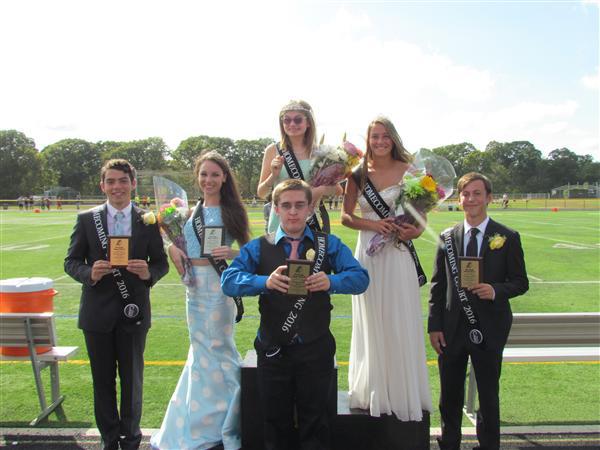 On a beautiful September afternoon at Wantagh High School, two immense dreams came true. The senior class of 2017 put their votes together in favor of two amazing special education students, Logan Hartmann and Cecilia Casella, for Homecoming King and Queen. After the incredible halftime show by the Wantagh High School Marching Band, Varsity Dance Team, and Cheerleaders, the crowd, proudly draped in black and gold, anxiously waited for the announcement of the winning King and Queen with cameras in hand ready to capture the moment.
Announced by seniors Francesca Sielaw and Grace Sullivan, Logan and Cecilia took the crown and the stands went wild. The 2017 Homecoming King and Queen received a standing ovation by the large crowd. Paul Roemer and Ally Murphy were named first runners-up and Dylan Hupert and Nicole Ninivaggi second runners-up. All contestants were proud to share this once in a lifetime moment with Logan and Cecilia.
"It was such an honor to stand beside Cecilia and Logan and to see their faces when they won," said Ninivaggi. "This really meant so much to them and seeing them smile made me even more proud to be a part of this incredible grade, school, and community!"
"It was an amazing experience being a part of it," said Roemer. "The smiles on their faces were priceless." It was truly a memorable day for everyone.
The event was so special it was aired on News 12 Long Island, courtesy of Logan's twin brother and biggest fan, Ross Hartmann. He was so heart warmed by the votes of his classmates, he wanted to get the story out further than just Wantagh. He got in contact with every news channel in the area and succeeded with News 12.
"I'm glad to see everyone set aside their differences to respect Logan and Cecilia, and would like everyone to know how much it means to him and the rest of my family," Ross said.