McNamara Takes Charge as Superintendent of Wantagh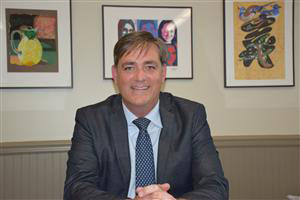 The Wantagh School District welcomes Mr. John McNamara as its new superintendent. McNamara replaces Maureen Goldberg who ran the district for the previous five years. Goldberg took over after a tumultuous year where the district struggled to find a school chief and had numerous superintendents and interim superintendents.
With McNamara, who had been assistant superintendent for the past two years, Wantagh is going through a period of stability regarding its top administrators.
"Wantagh has a fantastic community," says McNamara, who has worked in the Wantagh School District for three years including this one, and is looking to, under his new role as superintendent, develop a 5-year strategic plan to help improve the district as a whole.
By getting input from community members this fall, utilizing focus groups of students as well as surveys to parents, teachers, residents, and students alike, he will find out what the strengths and weaknesses of the district and its schools are. The plan will revolve around building upon the district's strengths and finding ways to remedy challenges, with a final goal improving instructional programs, facilities, climate, and technology of the schools. Mr. McNamara also works closely with the new assistant superintendent, Dr. Mark Ferris, and assistant superintendent for business, Adriana Silver, to develop the plan.
As superintendent, McNamara oversees more of the schools than he did as assistant superintendent; whereas he would only work with different instructional programs and hire teachers as assistant superintendent, his new job as superintendent gives him a variety of new responsibilities. He still does hiring, but now he also hires other personnel besides teachers. He works more closely with the Board of Education and oversees the district's business and financing as well.
"It's been a pleasure working with him the past two years as our assistant super, and I'm really looking forward to where he and Marc hope to take us in the next few years," says Mr. Tom Vereline, middle school teacher and head of the Wantagh Teachers' Union.
Mr. McNamara joined the district as assistant superintendent for instruction in July 2015 from the Plainview-Old Bethpage School District, where he served for six years as the middle school principal. Mr. McNamara has also had previous experience as a Social Studies teacher in the Island Trees school district for 11 years, as well as the Social Studies chairperson later on in his career. He always keeps his prior classroom experience in mind when making decisions in regards to what's best for students – he evaluates what would work best in the classroom and what students and teachers need.
"Mr. McNamara has already made a wonderful impact on our high school by initiating strong research programs such as AP Capstone, engineering, robotics, and our STEAM initiative," says Wantagh High School Principal Mrs. Carolyn Breivogel. "In addition, he has proven to be a Warrior as he cheers on our students both on the stage and the athletic field. It is clear to us he will be a wonderful advocate for strong pupil instruction and excellence. I look forward to working with him as we continue to prepare our students for college and beyond."
"It is truly an honor to be appointed as the next superintendent," said Mr. McNamara. "I thank the Board for having the confidence in me to serve in this role. I am excited to continue working with the entire school community to sustain and support the excellence, tradition and vision of the Wantagh School District."