Mr. Heepe, W.M.S. Teacher, Enters His 50th Year as a Wantagh Educator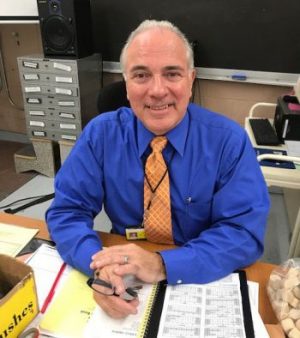 Mr. Heepe has been teaching at Wantagh Middle School for 50 years. He started teaching in September 1968. Although, in 1968, Wantagh Middle School was not a middle school at the time. It was a junior high with grades seven,eight, and nine. It became a middle school with grades six, seven, and eight in 1989.
Mr. Heepe was scheduled to go into engineering at Hunter College on a scholarship, but he always liked the idea of teaching. He said it was a good thing he went to college for teaching instead of engineering because by the time he got his degree, there were no engineering jobs when he got out of college.
One of his middle school colleagues, Mr. Vereline, agrees that it's good that Mr. Heepe became a teacher. "I've had the pleasure of working with Mr. Heepe for 22 years," says Vereline, head of the Wantagh Teachers' Union. "And the amazing thing about him is he brings the same energy and enthusiasm in Year 50 as he brought in Year 28. I have no doubt that teachers who were once students of Mr. Heepe 25, 30 years ago would say the same thing."
In 1968 Wantagh Junior High was "good all around," so Mr. Heepe pursued a teaching position there. It was an excellent department and had a wonderful chairman. Wantagh was a brand new school, only open for five years. Compared to city schools it was gorgeous. In addition, working at Wantagh meant an easy commute from his home in Seaford at the time.
Mr. Heepe student-taught in the city. His cooperating teacher highly recommended that since he lived on Long Island, he should work on Long Island. "Luck is part of life," said Mr. Heepe, an industrial arts teacher who is 70 but looks like he's in his 50's.
Mr. Heepe enjoys working at Wantagh Middle School. He says, "Wantagh has what school districts can't buy. Great kids, faculty who are here to teach, and parents who are generally great."
Mrs. Piciullo (nee Fragola) now teaches in the middle school with Mr. Heepe. But some 20 years ago, she was his student. "I had Mr. Heepe in middle school in 1995, and I still beg him to bring back the crystal plastic paperweight project that I loved so much," said Mrs. Piciullo. "I can't begin to imagine the evolution that Vic has seen here at WMS. It is quite an accomplishment to be working in the same place for 50 years."
Mr. Heepe believes the change in Wantagh was for the better. If there were bad students, then maybe he would have retired earlier. He feels very fortunate to teach here. He also doesn't think about all the time he has been teaching at Wantagh, which is possibly why he has been here for so long.
"I've only worked here half as long as Mr. Heepe," says WHS high school English teacher Mr. Kravitz. "But I've seen Vic a lot through the years, passing through the halls of the middle school, and we'll greet each other. He's one of the most pleasant, upbeat colleagues. Though I don't plan to emulate his 50-year plan I'm in awe of it."
His demeanor seems to be a major positive among several of his colleagues. "Vic hasn't lost any of his vigor since I've been working with him for 23 years," said Mrs. Hult, who graduated from Wantagh and teaches in the middle school. "He walks with purpose through the halls, and he has a grin from ear to ear like he has a really juicy (probably long) story to tell. He's also kind and considerate, and sincerely wants to know how you and your family are doing."
Mr. Heepe has had many students over the years. He has had children of students he once taught and even their grandchildren. He says at the beginning it was weird, and he was never trying to set a record by teaching at Wantagh. The students and faculty motivate him to keep teaching at Wantagh. He doesn't have to stay at Wantagh and he says that is a good position to be in. "When you're ready to retire, you'll know."
Mr. Heepe says when he retires he will travel, play music, and take his wife shopping. "It's a privilege to teach in the district, to watch my students grow up and do wonderful things," he said.