Meet Wantagh's New Assistant Principal — Mr. Pappas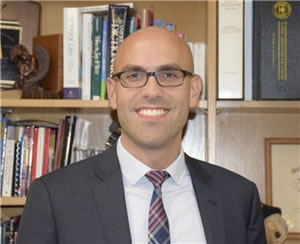 "No significant learning can occur without a significant relationship," said James Comer, the Congressman representing the 1st district of Kentucky.
Mr. Nick Pappas, the new assistant principal of Wantagh High School, lives by this quote — and strives to build lasting relationships with staff and students alike as he begins his new job.
Following the departure of Ms. Santorello, after she left for a different district, Mr. Pappas has taken on the roles she formerly held as of November 5. Pappas has 15 years of teaching experience as a Science teacher at Calhoun High School in the Bellmore-Merrick Central High School District.  At Calhoun, Mr. Pappas taught several high school science classes such as AP Biology, Chemistry, Advanced Science Research, and various electives. In addition, he served as District Mentor for teachers in Bellmore-Merrick where he led various workshops in lesson plan design, questioning techniques, and mindfulness practices.  During his tenure in Bellmore-Merrick, Pappas coached Boys and Girls Varsity Volleyball and served on the Site Based Committee.
Pappas' main goal is to form positive relationships with the faculty and students. He believes that understanding and living the culture of the high school and the community will help him learn and determine what needs are beneficial to both the high school and to the Wantagh community.
"It's definitely different being the assistant principal of the school,"  said Pappas. "It's more extensive and comprehensive."
Pappas explained that taking on this new position required a shift in his mindset.  Before, his primary domain was instruction whereas now it has taken a broader lens encompassing all domains such as student discipline, curriculum and instruction, attendance, athletics, and the arts. He does still work with the staff as well, in professional development and supporting teachers with what they need for their classrooms.
Outside of the school, Pappas is a father of three. He and his wife Patricia have three kids named Stel, Dimitri and Aya. He's also very interested in languages — he can speak Greek and Spanish in addition to English.  Greek is actually his first language as his parents are immigrants from Greece. He didn't speak English until he was 5 years old. He then went on to learn Spanish in middle school and continued learning it throughout college; he perfected it as an undergraduate at Boston College when he volunteered to teach 4th grade in a small village in the Dominican Republic.  When Pappas was 24 years old, he volunteered as a language translator for the Athens 2004 Olympic Games in Greece. Here he worked with athletes, journalists, and volunteers from all over the world.
"I'm so happy to be here," Pappas affirmed. "I want to ensure that student needs are being met and that all decisions are centered around kids.