Who is Greta Thunberg?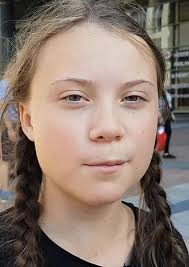 For the average 16 year old, life is about sports, friends, school, school, and more school — not for Greta Thunberg. She is so young, yet she still has dedicated her life to global activism for climate change.
 Thunberg is helping to shape and create a brighter future for planet Earth, including every person, animal, and creature that lives here. 
Recently, Thunberg voyaged across the Atlantic aboard a zero emission yacht. Greta Thunberg documented her two-week voyage by photo, and posted at least once a day via social media. She is proving to the world that you can still live a modern life, but with some small changes. 
Greta Thunberg also pioneered a school strike outside of her home country's (Sweden) parliament. This act has had a ripple effect across the world. Now, every Friday across the world students join in on the strike. She calls this strike Fridays For Future. She has also done a TED talk, and was recently on the CBS This Morning Show. She openly calls out politicians for their lack of care about what she calls the "Climate Crisis." She is even a published author of three books, all about climate change. At such an incredibly young age she is more courageous and outspoken than most adults, she never fails to speak her mind. She openly calls out politicians who, she feels are not doing all that they can to help change the "Climate Crisis."
 Thunberg also has asperger's syndrome, and she is very proud of it. She is not afraid of what people will think of her. Thunberg knows that her Asperger's helps her to be the person she is today — one who has helped change society's skewed image of what autistic people are like. She is showing the world that autistic people would be capable of so much more if they weren't  put into societal barriers.
Greta Thunberg practices what she preaches. She never flies (because of the carbon emissions it produces), she is also vegan. She has even convinced her family to follow in her footsteps, among many others. Thunberg has a bright future ahead, she has accomplished so much, and still has so much more to overcome and achieve.