We Have A Wide World of Homecoming Emotions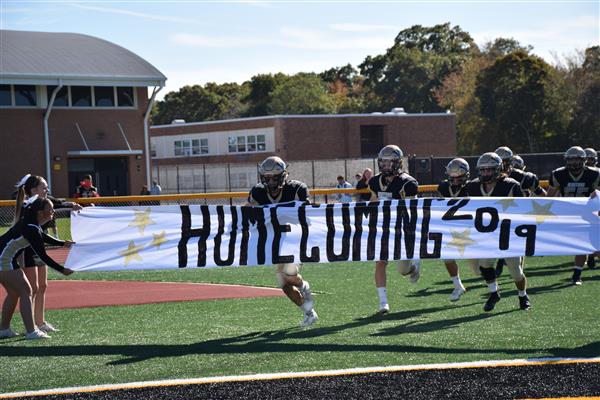 Homecoming this year was later than usual. On October 19, the Homecoming parade started at 12:45 p.m. at Wantagh Elementary School and ended at the high school. It consisted of the Board of Education, marching band, dance team, clubs, and numerous sports teams.
The theme for the parade was "Cities Around the World." Freshmen were Athens, sophomores were Paris, juniors were Las Vegas, and seniors were New York City. Student from each grade worked diligently hard to build and create their grades' float. However, there can only be one first place and that title was given to the juniors! Seniors came in second with sophomores in third, and freshmen in fourth. This year's grade advisors consisted of Ms. Grange (seniors), Ms. Pepe (juniors), Ms. Pecorella (sophomores), and Ms. Barbara (freshmen). 
Prior to the big day, General Organization/Student Government added an additional spirit week to the calendar year. "We wanted to boost school spirit during Homecoming week and we thought it would be a great way to get ready for the big weekend," Co-President Kaitlin Steingbruber said.
 Homecoming spirit week was composed of pajama day, tie-dye day, concert/music day, and class color day. "It was a great turn out," says Co-Vice President Chris Murale.
On Friday October 18, the Homecoming court was announced at Pep Rally  and consisted of Matt Drago, Mike Rodin, and Jack Padula for King alongside Olivia Tomeo, Kate Padgett, and Nicole Hooker for Queen. During half time, Mike Rodin and Olivia Tomeo were crowned as the 2019 Homecoming King and Queen. 
On Saturday afternoon the Wantagh football team had a terrific come-from-behind 21-20 win over the Bethpage Eagles. Wantagh drove 96 yards down the field with Tom von Bargen hauled in a 23-yard TD pass from quarterback Peter DelGais with under 3 minutes to play. That tied the game and placekicker Michael Coney nailed the crucial extra point to put the Warriors up 21-20. Sean Carlo's interception led to a Nick Teresky TD run. Teresky also threw a touchdown strike to Carlo. And the running back trio of Teresky, von Bargen and Michael Lombardi provided a powerful rushing attack. 
The win put the Warriors in a solid position to make the Conference III playoffs. 
Samantha Kerrigan, Grace Conway, and Morgan Kramer were among the multitude of seniors that helped run the snack shack all throughout the game.