"Missing Mo"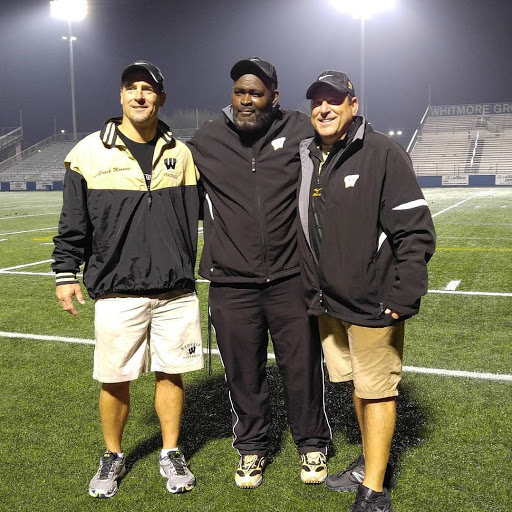 "We still just sit in the breakroom in silence at times, and someone will say: 'I am missing Mo right now..'."-Faith Lynch, RN.
This past year, we have lost around 400 frontliners due to the coronavirus, including Tony Carter. Carter was a loving husband, father, coach, and healthcare worker. He played football at Uniondale High School, Nassau Community College, and the University of New Mexico. Coach Carter was a man who touched the lives of many Wantagh players and students.
Many of his fellow healthcare workers asked to add a few words to his story. One specific coworker, Dianne Allman, stated, "Maurice was great at what he did. He took pride in his job." Many other colleagues, like Josiane Czaykowsky and Pat Toretta, also said he was "kind" and "thoughtful," especially towards the patients. Czaykowsky added, "One day I was not feeling well during work and he was the first person to ask, 'What can I get you?'" Toretta also explained, "He was a proud father and made that known." 
More of his colleagues decided to share their stories. Randi Glasgow said, "6:30 AM in the breakroom will never be the same. Who will remind me to eat breakfast?" Many have been greatly affected by the compassion that Carter demonstrated, especially about his job. Faith Lynch was another fellow worker; she said, "He was part of us and he was considered our family." Tony was well-respected and had a heart of gold. 
Coach Carter was Wantagh's defensive coordinator behind Head Coach Keith Sachs. This year would have been his 20th year here at Wantagh High School. Coach Sachs knew Carter for about 35 years. Coach Sachs defined him as "soulful" and "inspiring." He said, "We have so many memories together between victories and going on family trips together."
Sean Colbert, a former player of Coach Carter's, said, "When we won the Long Island Championship, and I don't know why this stuck with me, but he brought us into a huddle and said 'Don't let this be the best thing you guys accomplish.'" Peter Delgais, another former Wantagh football player, stated, " He was always there to bring you back up. Every time I had a bad game and felt down, Coach would pull me aside and talk to me about it."  Jack Benedetto added how Coach Carter was "the best type of person" and he made everyone a "better football player and student." 
Nick Teresky was another one of Coach Carter's players. Nick spoke about how they always messed around at practice together. He also said how Coach Carter helped him with his college decision every step of the way and he was a "player's coach."
Coach Carter was very important to the Wantagh community as well as NYU Winthrop Hospital. This was a coach who demonstrated gratitude and affection. He will be remembered through his players, family, friends, and fellow workers. Coach Tony Carter will be missed by us all but will forever be in our hearts.