Homecoming 2022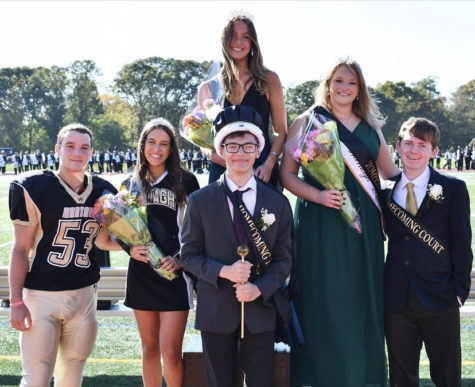 Homecoming is one of the few annual occasions where our Wantagh community comes together in support of our local community- rallying spirit and having fun. This year, on October 15th, the Wantagh Varsity Football team faced off against Floral Park, and not only was the game incredible, but so were the celebrations that inspired it. Coming into the game with a 5-0 win streak, pride was high and victory nigh, and the Wantagh Varsity Team did not disappoint: we won with a whopping score of 42-0!
While the game itself  always has a massive appeal to students and the community, there is much to partake in on this epic day. Before the game, Wantagh students and other local organizations march in a homecoming parade to rally spirit and display Wantagh's other attributes. Some local groups that participated in this event were the American Legion Bagpipe Band and the Wantagh Arrows Cheerleaders, who were followed by Miss Wantagh, Lilly Sloves, and the Homecoming Court, but we can't ignore the amazing floats made by the students in support of their classes.
The theme this fall was music genres, and each float was a spectacle, combining entertainment, art, leadership, and community bonding. The current seniors, the class of 2023, had first dibs at genre selection  and chose disco as their theme. Their float  flashed a disco ball made out of CDs that twinkled in the sunlight, next to cardboard cutouts of Guzzone, Pappas, and Widmann getting their groove on. Next up were the juniors (2024), who selected country music, and they certainly gave the crowds a real hoedown. Their centerpiece was an 8 foot tall guitar made from cardboard, string, and tissue paper, and their use of color really brought the whole display together. The sophomores (2025) also wowed the crowd with their hip-hop themed float- accompanied by abundant bright colors and many rapper-dressed students. Last, but certainly not least, came the freshmen (2026) making a bold entrance into the high school community with their rock-and-roll float. Onlookers couldn't help but jam out! A huge jukebox made from PVC pipe stood tall in the center, and everyone was transported back to the fifties.
In the end, the juniors grabbed first place for float decoration, with the seniors close behind. Our lovely Homecoming King and Queen were also announced- Leo Marciana and Ashlee Favata, respectively. Succinctly put, this year's homecoming was a smashing success, and we, as a community, can't wait to see what other events Wantagh High School has in store!