Boys' Hoops Team Earns Playoff Spot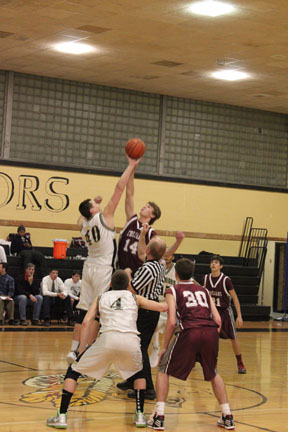 The varsity boys' basketball team continued their season into the new year, starting off strong and ready to win. Led by coach Keith Hunter, the Warriors have a record of 4-5 in Conference A1, and 7-9 overall. With a 60-51 win over New Hyde Park the Warriors lauchned themselves into a playoff spot. In this, the biggest game of the season, Wantagh was led by Eric Regenbogen who had 16 points and six rebounds; Justice Perez who had 15 points and 14 rebounds; and Brendan Devine with 13 points. They achieved this huge win without star player Gerard Roche.
Earlier in the season the Warriors had another huge win over sports rival Garden City 56-46 on January 6. Junior Gerard Roche scored 7 of his twenty-one points in a 21-point second quarter. Despite a tough loss on January 10 to South Side, 74-66, and a close game that subsequently ended in defeat for the Warriors, on January 13 against Jericho, 57-55, the team rallied on January 17 against New Hyde Park, 60-48. Senior Justice Perez totaled 17 points and fourteen rebounds, and Gerard Roche scored 17 points. Players Matt Balzano and Eric Regenbogen added 9 points, and Brendan Devine contributed 8 points to lead the Warriors to victory. The Warriors played an exhilarating game on January 19, where they won a close victory over Roslyn, 58-57. Senior Justice Perez scored two free-throws with one second left in the last quarter for the Wantagh victory. Perez had a team-high of 20 points and twelve rebounds. After defeating rivals Garden City in the beginning of January, they battled once again January 27, only for Wantagh to lose 53-44. The Warriors ended January with a tough loss to South Side, 65-53.
With the season moving quickly, the Warriors will face tough competitors this month. Coach Keith Hunter was thrilled with the win, calling it a team effort. Seniors Matt Balzano, Alec Chapoteau, Christian Labenberg, Justice Perez, Joe Repetti, Cory Stavis, and Brian Von Bargen are nearing the end of their last year as Warriors. With the added skill of the juniors, the Warriors have a team of skill and heart that is full of love for the game.