Now What? Looking at the Mets in a post-Reyes World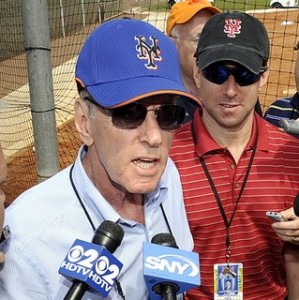 Just months after winning the first NL batting championship in New York Mets history, Jose Reyes is a Marlin. Just like that, the player who has electrified fans and teammates alike with his speed, enthusiasm, and crafty dugout handshakes is off to sunny Miami, where greener pastures await.
This development is indicative of the turn the Mets have taken since Bernie Madoff's Ponzi scheme was broken up. Ownership, the Wilpon family, is in debt to Major League Baseball and is facing a $386 million lawsuit from Madoff trustees. Attendance has declined each year since moving to CitiField, their new ballpark, and payroll is being slashed in an attempt to cut losses—the Wilpons lost $70 million in 2010 alone.
The Mets can barely afford $100 million in contracts this season, with $57 million of it going to Johan Santana (didn't pitch an inning in 2010), Jason Bay (batting .251 as a Met) and David Wright (hasn't performed consistently since moving to CitiField and taking a fastball to the head). So, about $43 million is going to 22 players, which comes out to $1.95 million, whereas the MLB average salary is $3.1 million.
To summarize, the Mets can afford 22 below average players for 2011. Granted, there are some decent players who will be earning rookie wages, such as outfielder Lucas Duda, utility man Daniel Murphy (who could be traded), pitcher Jon Niese, and first baseman Ike Davis, but that's about it.
Although executives such as General Manager Sandy Alderson—father of the Moneyball practice of exploiting market inefficiencies—and the Wilpon family don't want to admit it, this is a team that isn't going to be winning games until 2014, at the earliest. There's too much money tied up in sunken investments, and no cash coming in through tickets and concessions because the team is losing games.
All told, letting Reyes walk was the only logical decision the Mets could make. He's a player who turns 29 in 2011, with shaky hamstrings that have cost him essentially an entire season over the past three years, that relies on speed to stand out. All of that adds up to an incredibly risky investment, which the Mets have had enough with, thanks to terrible deals such as those of Johan Santana, Francisco Rodriguez, and Jason Bay.
Unfortunately, the new Collective Bargaining Agreement ratified by players and owners alike negates most of the benefits the Mets could have reaped from Reyes jumping ship. Rather than a first round draft pick—which the Mets would have received if a team such as San Francisco or Cincinnati had signed him—the Mets wind up with a second rounder, since the Marlins top-10 pick is protected from being lost as compensation for free-agent signings.
Even then, amateur draftees flame out more often than they become Major League regulars, so whoever the Mets take with that second rounder will have to cope with the pressure of being "the guy we got for Reyes," which, given the New York media, could easily help derail his career.
Notes: Mets have settled with Irving Picard and the trustees that he represents, and will have to pay only $162 million. The suit had originally been requesting $1 billion, but had been knocked down to $300 million by the time it went to court. The $162 isn't even the sum that the Wilpons have to pay, however, as some loopholes involving a separate suit knock down the total the family owes to $29 million. Furthermore, the family doesn't have to begin paying the debt until 2016. This has allowed the Wilpons to pay back loans from several banks, as well as Major League Baseball, which were made in 2011 to keep the team afloat. To pay this back, the family has sold several minority shares of the Mets franchise to sister-companies Sterling Equities and TV channel SNY. These sales have provided a $200 million influx of cash to the struggling franchise, although it will likely continue to lose money for the foreseeable future.