Wantagh to Battle Manhasset in Playoff Semifinal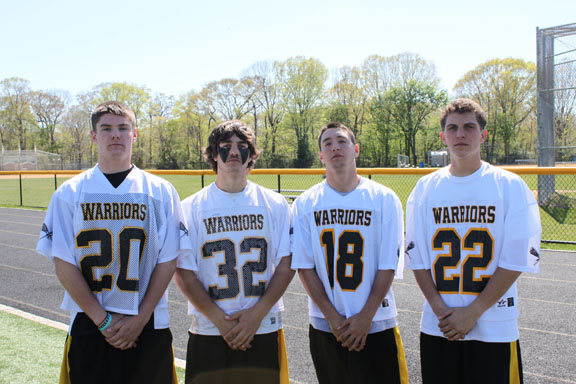 The boys' lacrosse team started its spring season strong. Led by Coach Gary Reh and assistant coaches James Polo and John Ciuffo, they are currently 4-0 in Conference II, the strongest conference on Long Island, and 8-2 overall.
The senior filled lineup has been playing for multiple years. They are ready to put their all in the upcoming games as they finish up their last season. The seniors are Brian VonBargen, Matt Balzano, Joe Giardina, Stephen Beckwith, Shaun Charkowick, Cory Stavis, Eddie O'Donnell, Matt Kaufmann, Christian Labenberg, Mike Fitzpatrick, and Jonathan Biscardi.
"We seniors have been working way too hard and put in so much time and effort for us to get anything less than a county championship," says Giardina, who is one of the team's captain of the team and will play for Adelphi University's lacrosse team next year.
All of the captains will be playing lacrosse in college. Matt Balzano will play for University of Massachusetts's Division I lacrosse team that is currently ranked No. 2 in the nation. Brian VonBargen will play for Hofstra's Division I lacrosse team. Matt Kauffman will also be playing for Adelphi's lacrosse team with Giardina. Also playing in college next year is Cory Stavis (Adelphi), Stephen Beckwith (Adelphi) and Eddie O'Donnell (Assumption).
Three underclassmen that have had a great start to this season are junior goalie, Will Fitzpatrick, and junior attack men, Brandon Watson and Kyle Cain. Other key competitors are Chris Iannetta, Eric Tomeo, Thomas Daly, Sean Tomlinson, and Brian Quinn.
Going into the season's final two weeks, the Warriors had three 20-goal scorers: Balzano, Stavis and Watson.
The Warriors have dominated league competition. Wantagh's only loss to was the nation's No. 1-ranked team, Garden City. The game was tied at the half but Garden City dominated the second half and won 12-5.
Wantagh's final regular season wins included victories over Long Beach, Jericho and Wheatley. They also defeated one of the best teams in Connecticut, Joel Barlow, 13-11.
The Long Beach win in a huge night game April 26. Balzano led the team with six goals and three assists. Goalie Wil Fitzpatrick had a great game in goal leading to a 16-11 win..
"This was a huge league game to determine our playoff spot," said Balzano. "We played as a team. All our hard work paid off."
Their only other defeats in a current 14-3 season were to Suffolk Class B powerhouse Comsewogue, 10-6, Class A Massapequa 13-8.
In the first round of the playoffs Wantagh crushed Floral Park, 16-3. Balzano and von Bargen each had four goals. In the quarters Wantagh longsticked Carey, 19-5. Again the offense was led by Balzano, von Bargen and Stavis.
Wantagh takes on Manhasset (12-5) in the semis at Hofstra Tuesday night.