Roddick Retires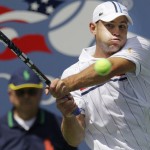 Andy Roddick retired from tennis on September 5th, 2012. This came after a loss to Argentina's Juan Martin Del Potro in the quarterfinals of the U.S. Open. Roddick, 30, retired after completing 12 years as a professional tennis player. He leaves behind a legacy as one of the best American male tennis players.
Roddick won his only major title at the U.S. Open in 2003, at age 21. From there, he achieved No. 1 ranking atop the ATP Rankings. Following his success in 2003, he appeared in four major finals, all of which he lost to Roger Federer. Of the four finals that he appeared in, three were at Wimbledon and one was at the U.S. Open. One of the three Wimbledon losses included a 16-14 fifth set.
Andy Roddick's achievements don't end there. His overall record as a professional is 612-213. This is a winning percentage of .742. Roddick won a total of 32 tournament titles. One of his brightest shining moments was when he led the American Team to a victory in the 2007 Davis Cup Championship.
Andy Roddick gave an emotional goodbye to the fans who have supported him most following his final professional match. He emphasized how this tournament was different for him. "If we do badly, then it costs us something; if we do well, we get great things. This was about something bigger. It wasn't about ranking points or paychecks or anything else. This week I felt like I was 12 years old, playing in a park. It was extremely innocent. That was fun. I enjoyed it."
Ending his career at the U.S. Open seems so fitting for someone who grew up dreaming of playing at Arthur Ashe Stadium. Andy Roddick leaves tennis to spend more time with his wife of 3 years. In addition, he aspires to direct more of his attention to his foundation, the Andy Roddick Foundation, which focuses on the education of children. Andy Roddick's retirement marks the beginning of an end of an era of men's tennis as the retirements of other former world No. 1's are expected in the near future.