McHugh, Klarides Make Counties in Golf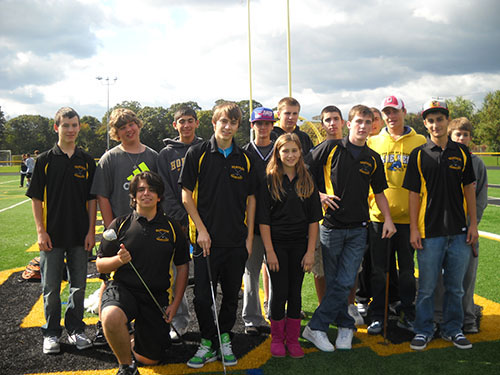 The Wantagh Boys Golf team recently finished its season with a 3-7 record. The team was led by junior Chris Klarides and senior Jim McHugh. Both golfers have qualified for the Nassau County tournament this spring. It will be Klarides second county tournament and McHugh's first.
Klarides was instrumental in two of the team's wins, shooting a 41 against Bethpage and a 40 against Island Trees.
In Wantagh's other win, McHugh shot a 42 at Eisenhower White to lead the team over Clarke. "Jim did a great job for us," said Mr. Kravitz, one of the team's coaches. "He played all summer and really improved. He had the low score for the season shooting a 37 for nine on Bethpage Yellow."
Other golfers who played well this year include Alec Guerin, J.T. McCaron, Matt Zuelch, and senior Dylan Lantz. In addition, because female golfers are permitted to compete on a boys' team if a school lacks a girls' team, seventh-grader Faith Francioso earned a spot in the lineup, providing a glimpse of Wantagh's golf team of the future.
With the conclusion of the season, coaches Mr. Kravitz and Mr. Colavita finished their fourth year together. They will begin tryouts for next year's team during the week before school starts in 2013.