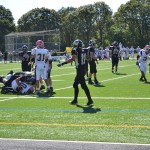 Keith Sachs is back as head coach of the football team and, as he has done for 21 years, he positioned the Warriors in yet another Nassau County Championship game.
Since Wantagh (8-3) moved up to Conference II in 2009, from Conference III, three of four championships have been Wantagh vs. Garden City (10-1). Wantagh was anticipating its first Nassau title in eight years. The Warriors led the game until the 4th quarter. An Andrew Martorella 24-yard field goal made it 3-0. A Roddy Roche TD pass to Will Fitzpatrick made it 10-0. At the start of the second half, Brandon Watson scored on a 28-yard TD toss from Roche to make it 17-7. But in the 4th quarter Garden City took a 21-17 lead and held on to capture the championship.
In a Nassau County Conference II semifinal the No. 3-seeded Warriors (8-2) edged the No. 2-seeded MacArthur Generals, 14-13, in an adrenaline-filled overtime at Hofstra, November 17. MacArthur, 8-2, had only lost once – to Wantagh the season opener.
At the half, Wantagh trailed 7-0. After two missed field goals by the Generals, the boys were revamped and ready to win. Watson scored on a 20-yard pass from Roddy Roche in the third quarter. Andrew Martorella hit the extra point for a 7-7 tie.
"We just came out in the second half and played relentlessly," said senior Massapequa transfer, TJ Ragusa, who was all over the field, making crushing one-one tackles. "We just stopped making the little mistakes that we were making in the first half."
In a dominant second half, Wantagh had a first and goal but couldn't score on four tries. However, a brilliant second-half defense for Wantagh completely shut down MacArthur. This spirited D was led by linebackers Ragusa and Peter Brasile, and defensive tackle Nick English. Sophomore linebacker Ralph Sommers was also a force.
The Warriors reached the Generals 30-yard line with just over a minute to go in the game. However, Watson fumbled and the Generals ran out the clock. In overtime, MacArthur scored on double pass but Brasile blocked the extra point. Then Watson, atoning for his fumble, had an incredible run for a touchdown, where he made two brilliant cutbacks.
The extra-point would win the game. Will Fitzpatrick made a perfect snap, Tom Wright made the perfect hold for the left-footed Martorella who slammed the kick high through the uprights and Wantagh had a thrilling one-point overtime win
The boys crushed Mepham in their first playoff game, 33-7, November 10. Brandon Watson caught five passes for 114-yards and had three touchdowns. Roche completed 7/11 passes for 90 yards and two passing touchdowns.
During the regular season Wantagh defeated Mepham and Calhoun, and won close games against MacArthur, Elmont and New Hyde Park. The Warriors lost to Carey and Garden City. This gave Wantagh a 6-2 record putting it in third place in Conference II.
Wantagh defeated the New Hyde Park Gladiators, 21-7, October 13. Starting quarterback, Roddy Roche, went 8/11 for 121 yards with two passing touchdowns and one return fumble touchdown, sealing the win for Wantagh. Other highlights from the game were Ralph Sommers with 11 tackles and a sack and Peter Brasile with 8 tackles.
The Warriors played a great first half in their conference game against Garden City. Thanks to a Watson 73-yard punt return for a TD and a 19-yard touchdown pass from Roche to Will Fitzpatrick Wantagh was tied 14-14. But the Trojans had a very strong second half scoring three touchdowns to win 34-14.
Watson had five catches for 194 yards and three touchdowns for Wantagh leading it to a 31-12 win over Mepham, September 22.
Both Roche and Watson had big cleats to fill after seniors Nick Mullen and Matt Balzano graduated. They stepped up and both had great seasons.
Nick Manteria, defenseman, and Ryan Nealon, center, both played with injuries but that didn't stop either one of them from giving their all on the turf.
Sachs' coaching staff is comprised of Tony Carter, Jim Morrow and Jay Saravis, who collectively shaped the boys into a daunting team for their 2012 season.