Boys' XC Team Wins County Championship; Girls Take Second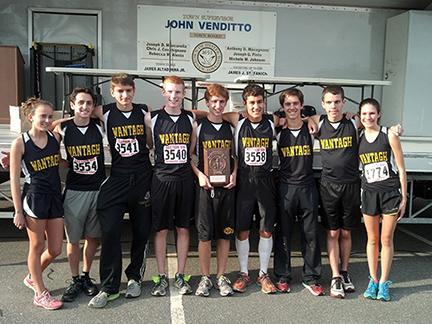 The boys cross country won the Nassau County Class A Championship and advanced to the New York State Championship for the first time since 2008.
The members of the State team consisted of Andrew Bloniarz, Anthony Bouchard, Michael Collins, Wesley Craig, Brent Kavaler, Rich Monaco, and Timmy Reilly. The boys finished 9th overall at the State Championship.
The girls' varsity cross country finished in second place in Nassau County . Avery Kratzer led the girls' team throughout the regular season. The girls' varsity cross country team (consisted of Avery Kratzer, Megan Gordon, Marissa Polack, Alyssa Soethout, Shannon Auletta, Paige Craig, and Shea Weber) completed the season with a 12-1 regular-season record.
The team had many athletes achieve personal goals and break their previous personal best times, and also had many athletes achieve conference, county, and state wide titles. Anthony Bouchard, Andrew Bloniarz, Brent Kavaler, Rich Monaco, Michael Collins, Timmy Reilly, Alyssa Soethout, Megan Gordon, and Avery Kratzer received both All-Division and All-Conference. Andrew Bloniarz, Anthony Bouchard, Rich Monaco, Timmy Reilly, Megan Gordon, and Avery Kratzer received All-Class County. Megan Gordon and Avery Kratzer received All-County. Megan Gordon, a freshman, received All-State Honors by placing in the Top 20 at the state championship.
"The XC team this year was a very special group of 53 athletes," said Coach Frazer, who coached both the boys' and girls' teams. "This team decided to be great for each other and for the program. They set their goals in May and started the road towards championships in June. Their commitment and dedication to each other was extremely inspiring. I am very proud and honored to coach each of them."
The boys' JV won the JV race at the County Championship showing depth and promise for the program in the upcoming years. Six of the top seven runner are graduating this year and the JV team ensures the quality of the program. The top 7 JV athletes earning their county championship were Max Mortiz, Rocco Piccirillo, James McVeigh, Jake Lapadula, Vasu Joshi, Scott Henderson, and George Albert.